Odyssey Sightseeing Tours Cricket Tournament…
Everest Masters cricket team will tomorrow (Sunday October 20th) travel to the West Side to engage West Meten-Meer-Zorg Masters cricket team in a match of the Odyssey Sightseeing Tours Cricket Tournament.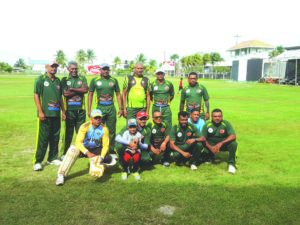 This match will be held at the West Meten-Meer-Zorg Community Centre Ground, and the Everest Masters will there attempt to overthrow their host and exact revenge for the loss they had suffered in their last engagement in May, when Meten-Meer-Zorg Masters defeated them by 21 runs in a match in the Ronald "Sticky" Jaisingh 50th Birthday Anniversary 25-Over friendly tournament played at the Everest Cricket Club ground.
Everest are seeking to win tomorrow's match not only to settle scores in the ongoing 'battle of the masters', but to exact revenge on their opponents for giving them an outright thrashing on their own territory.
A win for Everest would mean a possible future matchup could be played to determine the better masters' side of the two. Everest will be on the hunt, as they are fresh off a win they eked out over the Belle Vue Senior Team in August. That victory came compliments of the big-hitting Saheed Mohamed, who will pose a threat to the Meten-Meer-Zorg side.
Meten-Meer-Zorg have doubtless been a successful side. On match day they are expected to play their natural game, boosted by a rich variety of spin bowling as both teams battle for supremacy.
Tomorrow's match, set to begin promptly at 11:30hrs, promises to be an exciting encounter. Umpires are Ravendra Ramgobin and Mohamed Willie, while the sponsor, Odyssey Sightseeing Tours, is one of the leading tour companies in Guyana, having recently acquired a new 80-seater tour boat that operates from Parika, East Bank Essequibo.
West Meten-Meer-Zorg Masters team is comprised of: Troy Khan, Muneshwar Balgobin, Chabiraj Ramcharran, Sham Persaud, Seymour Evans, Vinod Rajkumar, Ashim Bashir, Mohan Chaitram, Hemendra Kowlessar, Lalta Suknanand, Abid Haniff, Avinash Shardanandan and Mohamed Willie.
Everest Masters team is comprised of: Rajesh Singh, Sahadeo Hardaiow, Saheed Mohamed, Basil Persaud, Anand Persaud, Bisham Singh, Imtiaz Sadik, Ucil Armstrong, Anwar Rahaman, Ronald Jaisingh, Richard Hoyte, Ravi Narayan, Prakash Balgobin, Satyendra Khemraj, Azemul Hanif and Ejaz Mohamed.