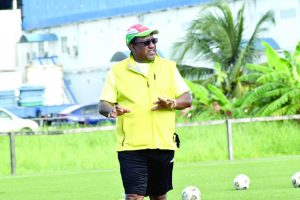 Guyana's senior men's national football team, the Golden Jaguars, in preparation for their CONCACAF Gold Cup Preliminary matches next month, are currently involved in a rigid training camp in Jamaica.
The camp is set to run until June 5, and according to Head Coach Jamaal Shabazz, "expectations are high", since a cut will be made afterwards.
"Well, we've invited 28 players to the Jamaica camp, from which we will choose 24 to go to Miami. I expect guys to be competitive. You know, it's always going to be difficult to pick the final squad, because we have internationally-based players (and) locally-based players," Shabazz explained.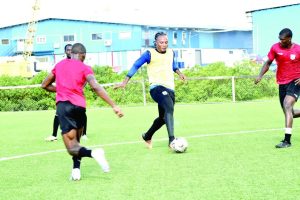 The Head Coach added, "So, I expect a very competitive camp, and one that will lay the foundation for us to go to Miami and give of our best."
For the local arm, players were selected from the Slingerz, Western Tigers, Guyana Police Force and Guyana Defence Force football clubs.
The Head Coach disclosed the names of the international personalities that were invited to the training camp, as well as new faces to look out for. He revealed, "We've invited again Sam Cox, Nathan Moriah- Welch, Stephen Duke-Mckenna, Emery Welshman; the same list that played in the Nations' League, with the addition of a few players.
"We have Deon Moore coming out of the UK. He's certainly going to be a new one. Marcus Simmons, he's coming out of Canada, a left back. So, they're a couple new guys that we invited, and we're looking to see how they mesh.
We want the team to be stronger than the last one, but we don't want to mess with the chemistry, because we had something good going: good discipline, good tactical understanding, and the guys played with a big heart," Shabazz explained.
Prior to the national team's participation in the Nations League earlier this year, international friendlies for preparation were a spot of bother. While the issue remains, Shabazz divulged that the team will benefit from two practice matches, though not high profile. The Head Coach shared, "Well we're hoping to get two practice matches in Jamaica, one against possibly a local-based Jamaican team; that's still in the works. And definitely in Miami, we're expected to play Martinique.
"So, we will get some practice games. It will not be high-profile matches because nobody wants to give away their team shape, the team make up, composition, at this stage, but we expect to have at least two matches that will be able to prepare us for the upcoming game against Grenada," Shabazz divulged.
Following their training camp in Jamaica, the Golden Jaguars will head over to Miami, USA for another training stint up until June 15; after which they will battle Grenada in The Gold Cup Preliminaries on June 17.