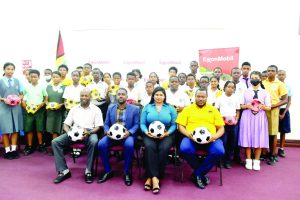 The fourth edition of the ExxonMobil Under-14 Boys' and Girls' Schools Football tournament will kick off at two venues this Saturday, May 13th, 2023.
Just days before the first whistle is blown, Guyana Shore Base Inc (GYSBI) has timely hopped aboard the sponsorship train. Public Relations Manager at GYSBI, Gomattie Gangadin, during the customary team briefing exercise on Tuesday, shared the reason behind the company's support.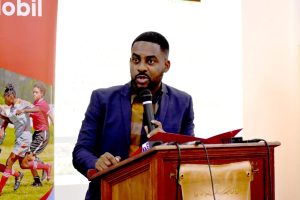 "As a Guyanese company advancing opportunities for Guyanese citizens, we strongly believe in committing our support and resources to initiatives which are sustainable, tangible, and can create positive benefits for young people and communities. It is for this reason we decided to pledge our support, through sponsorship, for this important sporting programme," Gangadin shared with students and teachers gathered at Tuesday's event at the National Library in Georgetown.
Gangadin added, "The importance of fostering sporting activities in schools cannot be overstated. Sports has always been integral to human lives, and they have been used to foster friendship and unity among human lives."
Meanwhile, ExxonMobil's Community Relations Advisor Ryan Hoppie also took some to reiterate the importance of the tournament for the title sponsors.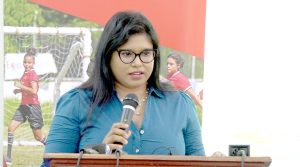 "It's important for us at ExxonMobil to invest in our focus area of youth empowerment through sport; and just being able to showcase across Guyana what we're doing, not just in sport, but for other areas of youth development, is really important. I believe we have more than 30 schools which are taking part in this year's tournament, which is massive. But what is important to us at ExxonMobil: when we talk about ensuring our reach, it is not just the schools in Region 4 or the schools in Region 3 that are benefitting from a tournament like this. This year, we've committed to going beyond, to include places that some people have dreamed of going."
The ExxonMobil U14 tournament will see participation from upwards of 48 boys' and girls' Under-14 school teams hailing from Regions 2, 3, 4, 5, 6, 7 and 10. The teams will be vying for a $300,000 grand prize in both boys' and girls' division, that will go towards a school project of their choice. Second-, third- and fourth-place finishers will have to settle for $150,000, $75,000, and $50,000 respectively, all for a school initiative, along with the respective trophy.
The tournament is also sponsored by Demerara Distillers' Limited (DDL) through the Pepsi Brand, and by MVP Sports. The tournament is also sanctioned by the Guyana Football Federation (GFF), Ministry of Education (MoE), and the Ministry of Culture, Youth and Sport (MCYS).