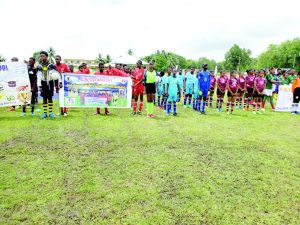 The 4th edition of the ExxonMobil Boys' and Girls' Under-14 Schools' Football tournaments kicked off on Saturday morning amidst much pomp and splendour resulting from the customary march past ceremony.
The tournaments are set to feature 32 boys' teams and 20 girls' teams at the Ministry of Education (MOE) Ground and the National Insurance Scheme (NIS) Ground, both on Carifesta Avenue in Georgetown, over the next few weeks.
At the simple opening ceremony, Guyana Football Federation (GFF) President Wayne Forde had some words of advice for the young prospective ballers.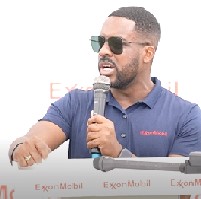 "If you're only playing to win, then you're making the wrong start in football. You're going to learn many new things over the next couple of days; hold those experiences close to your heart, learn from them, and build. There is no one here that can say that before us right now isn't the next Cristiano Ronaldo, the next Messi. But we will only know that through these initiatives," Forde shared.
ExxonMobil's Community Relations Advisor Ryan Hoppie has again reiterated the company's eagerness to see yet another edition of the tournament underway. Hoppie told the teams assembled at the NIS Ground, "ExxonMobil is indeed honoured to be investing through our strategic community investment area, one of our focus areas, youth development. And so, to do this through sport is indeed a pleasure for us.
"When we partner with organizations like Petra, we know that the investment is one that goes beyond, in this case, just the field," the ExxonMobil Community Relations Advisor added.
When the tournament got underway, there were victories on the cards for Institute of Academic Excellence, Bartica Secondary, Waramuri Top, and East Ruimveldt Secondary in the Girls' competition.
In the Boys' tournament, Westminster Secondary, New Central High, Bartica Secondary, and East Ruimveldt Secondary recorded opening wins.
The ExxonMobil U14 tournament this year features school from Regions 2, 3, 4, 5, 6, 7 and 10. The victorious male and female teams will cop a $300,000 grand prize that would go towards a school project of their choice.
The tournament is sponsored by ExxonMobil, GYSBI and MVP Sports. It will continue next Saturday at the aforementioned venues.