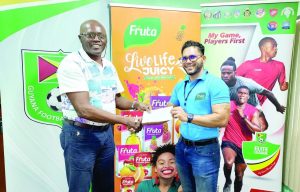 Following the signing of a non-alcoholic beverage sponsorship deal on May 19, the Guyana Beverages Inc. (GBI) is now a proud sponsor of the KFC Elite League football.
GBI is the official provider of juice, soft drink and water during the two-month tournament organized by the Guyana Football Federation (GFF).
Corporate Guyana continues to respond to Guyana's President Irfaan Ali and GFF President Wayne Forde's calls to support football development and promotion initiatives in Guyana, including Season Five of the KFC Elite League, which officially kicked off on Sunday, May 14.
Guyana's top ten football clubs: Fruta Conquerors, Guyana Police Force, Guyana Defence Force, Den Amstel, Victoria Kings, Buxton United, Milerock, Ann's Grove, Guyana Police Force and Santos, will be competing against each other over the next two months for a chance to win more than four million dollars in cash prizes.
GFF President Forde has thanked Guyana Beverages Inc for supporting the league, which gives top local talent a competitive national platform.
"We are very happy to welcome Guyana Beverages Inc. to the community of partners who have stepped forward to contribute generously to the successful staging of Season Five of the KFC Elite League. GBI has a long history in the development of football. Over the years, they have made significant investment in grassroots programmes, community football activities and international fixtures," Forde said.
He added that football unites communities, and that the football fraternity is thankful for the beverage company's continued support as the GFF focuses on elevating the game in Guyana.
"We are grateful for their steadfast support, and look forward to expanding our collaboration in many new areas in the future, as the GFF continues to work assiduously towards moving football in Guyana to the higher level."
The KFC Elite League is a priority for the GFF, with the champions automatically qualifying for the CONCACAF/ Caribbean Shield Championships. But teams first have to overcome the first hurdle of the knockout stages in this highly competitive league to make it to the two-million-dollar championship match.
Guyana Beverages Inc. General Manager Samuel Arjoon has pledged his company's continued support of GFF President Forde's vision for football across Guyana.
"We are pleased to contribute to the Guyana Football Federation Elite League Championship. This Championship allows young talent to develop their skills at a competitive level. Guyana Beverages Inc. will continue to support the efforts of GFF in further developing the sport and football at all levels," Arjoon added.
The KFC Elite League is a key part of President Forde's strategy to grow the football audience in Guyana, while giving players a competitive platform to showcase their talent.