Days after the Housing and Water Ministry announced that it would distribute land titles to residents of Plantation Hope (Enmore Grass Field), East Coast Demerara, the promise was kept as the first 22 families are now in possession of their Certificates of Title.
The first set of titles were presented to the families on Saturday by Minister within the Ministry of Housing and Water, Susan Rodrigues, less than one week after processing of the ownership documents commenced.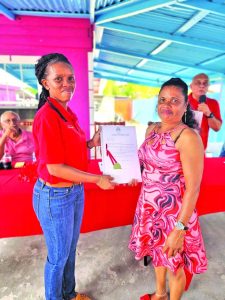 Director of Community Development at the Central Housing and Planning Authority (CHPA) Gladwin Charles, Head of CH&PA's Conveyance Unit Esther Stephens and other officials were also present at the handing over ceremony.
Enmore Grass Field was initially identified as farmland for Enmore Hope West residents. In the late 90s, farmers began squatting in the area and regularisation began in 2011, during President Ali's tenure as Minister of Housing and Water. Minister Rodrigues stated that the regularisation process was then stalled under the previous Administration.
"We have picked up where we left off then and today you will finally be able to put an end to that process to allow you to receive your title documents so that you can finally move on with the rest of your life and put an end to this chapter," Minister Rodrigues told the residents.
Some 55 lots were created in the area and fifty-two persons were verified and issued allocation letters. Processing of titles commenced on May 15, 2023, following an outreach to the community. Minister Rodrigues stated that the titles play a crucial role in the homeownership process, as it gives each family a form of independence.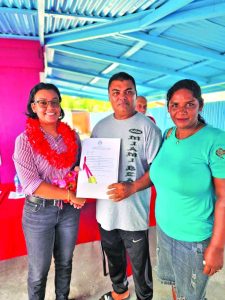 "It may seem like a piece of paper or just a document but it is an extremely empowering thing. It's putting financial freedom in your hand and it is giving you a peace of mind that nothing else can give you."
The remaining persons will be able to process and receive their titles at a later date. During the activity, residents also used the opportunity to interact with the Minister and raise issues affecting them.
Since Government took office in 2020, there has been an aggressive drive to distribute house lots of titles to Guyanese. In fact, the Housing Ministry has been successful thus far in its quest to deliver 50,000 house lots by 2025.
The Ministry had also started the process of establishing about 16 new housing areas across Regions Three, Four, Five, and Six.