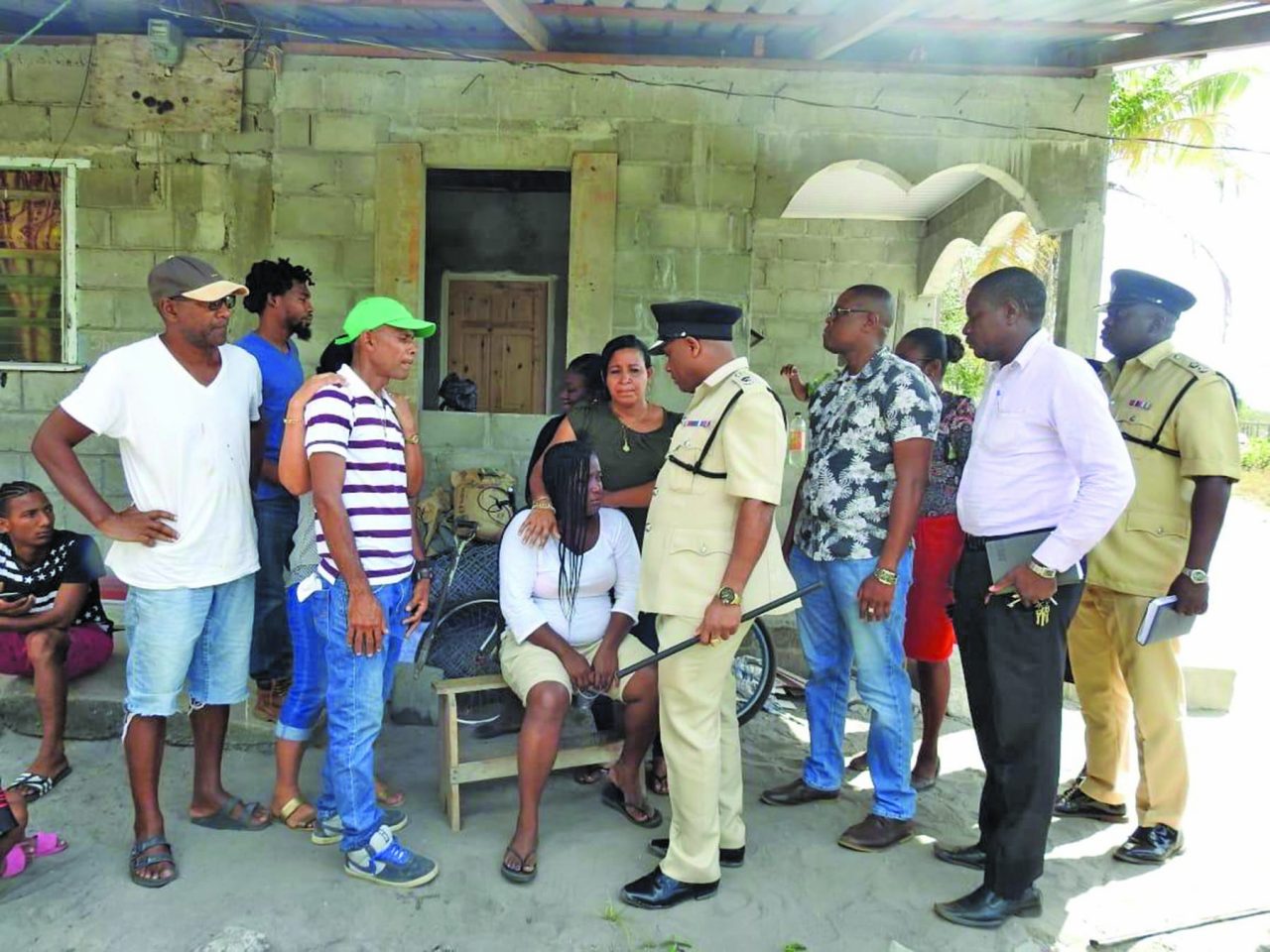 As the families of the Linden, Region 10, couple that was killed in a Jeep and motorbike collision at Amelia's Ward on Monday evening continue to mourn their deaths, E Division (Linden-Kwakwani) Commander, Senior Superintendent Linden Lord and team on Tuesday conducted visits at their homes to offer condolences.
Commander Lord was accompanied by Community Relations Officer and an administrative team as they visited the homes of the deceased Sheshyka Ettienne, 21, of Lot 764 South Amelia's Ward and O'neil DeYounge, 24, of lot 78 Cinderella City, Amelia's Ward. During the visit, the Divisional Commander spoke with relatives of the deceased, Deon Ettienne and Coleen DeYounge, as he offered words of comfort and assured them that a thorough investigation will be conducted into the matter.
Prayers were also offered to both families as the Divisional Commander assured them that they will have the full support of the police.
The couple died on Monday evening at about 20:30h during a collision along the Amelia's Ward public road and Toucan Drive.
Reports are that the Jeep bearing registration number PSS 8812 collided with motorcycle CJ 6542 which was being driven by DeYounge. Ettienne was the pillion rider.
The Jeep was reportedly proceeding west along the southern carriageway when it was alleged that the driver suddenly made a right turn in the northern direction reportedly into the path of the motorcycle which was proceeding in the opposite direction.
DeYounge, upon seeing this, reportedly applied brakes and lost control of the motorcycle as both he and Ettienne were reportedly flung onto the roadway and slid under the Jeep.
The couple was picked up and transported to the Linden Hospital Complex (LHC) where they were both pronounced dead on arrival.
The bodies were taken to the pensioners mortuary where they currently await post-mortem examinations, expected to be conducted today.
According to police, the driver of the Jeep involved in the collision tested negative for alcohol in his system. He remains in police custody where he is said to be assisting with investigations. According to the Divisional Commander, police are awaiting legal advice on the way forward with the case.
Families mourn
Meanwhile, at the homes of the deceased on Tuesday, families and friends gathered to offer their sympathy and support. The Linden community has also been plunged into a state of mourning as many described the couple as a loving pair, some even taking to social media to express their grief.
Ettienne's mother was inconsolable as she was comforted by family and friends.
DeYounge's mother, Coleen DeYounge, told this publication that she is trying her best to remain strong.
The woman and her deceased son both worked together at the Pensioners Association in Linden where he worked as a driver. Ettienne was a registered nurse at the LHC.
According to DeYounge, both she and her deceased son left work together on Monday afternoon, however, she ventured home while he remained with friends.
"He does normally lime before he come home, like 8:30 or so he would come. He would go by his girlfriend relatives and when she come off from work they would go and then they would come here," she related.
At the time of the accident, DeYounge was reportedly transporting Ettienne home after ending her shift at work.
"Say like ten to nine, I go in and by the time I tuck in my daughter called me and say, 'Mommy call O'neil because something happen because one of his cousins just called'. So when I call, I ain't get no answer. So I call his brother because he and his brother normally come home together and he say yes he meet with accident and he died," the woman noted.
She said her son was first rushed to the hospital since he reportedly had a pulse but she said she was informed that both appeared to have died on the spot.
"By the time I get there (hospital) they even already put him in the morgue," DeYounge said.
The woman remembers her son as a jovial, friendly and helpful person who was loved by his family, friends and colleagues.
"I just accept it, he died and I accept it. I know there is death and sometime you have to go. It's just the way you go," DeYounge said.
She said the deceased were a loving couple who could always be seen together.
Investigations are continuing into the accident. (Utamu Belle)