Over 35 persons are now homeless after a fire gutted several shacks on Lombard and Broad Streets, Charlestown, Georgetown on Saturday morning.
Reports are the fire started at about 08:00h after an alleged mentally unstable man set one of the shacks, which is adjoined to each other, on fire.
When Guyana Times visited the scene, occupants of the dwellings stood in disbelief with many household items on the roadway. Some were tumbling through the rubble to unearth any valuables that were saved while passers-by looked on.
Speaking with this publication, several occupants of the shacks recalled being alerted by nearby persons who noticed the smoke emanating from the structures.
The fire quickly escalated into an uncontrollable inferno, leaving persons with no other option but to dash to safety while the fire ripped apart the shacks.
Abiola Khalil told this publication that she was at work when someone called and informed her of the fire. She said that by the time she reached home the fire had flattened her dwelling place.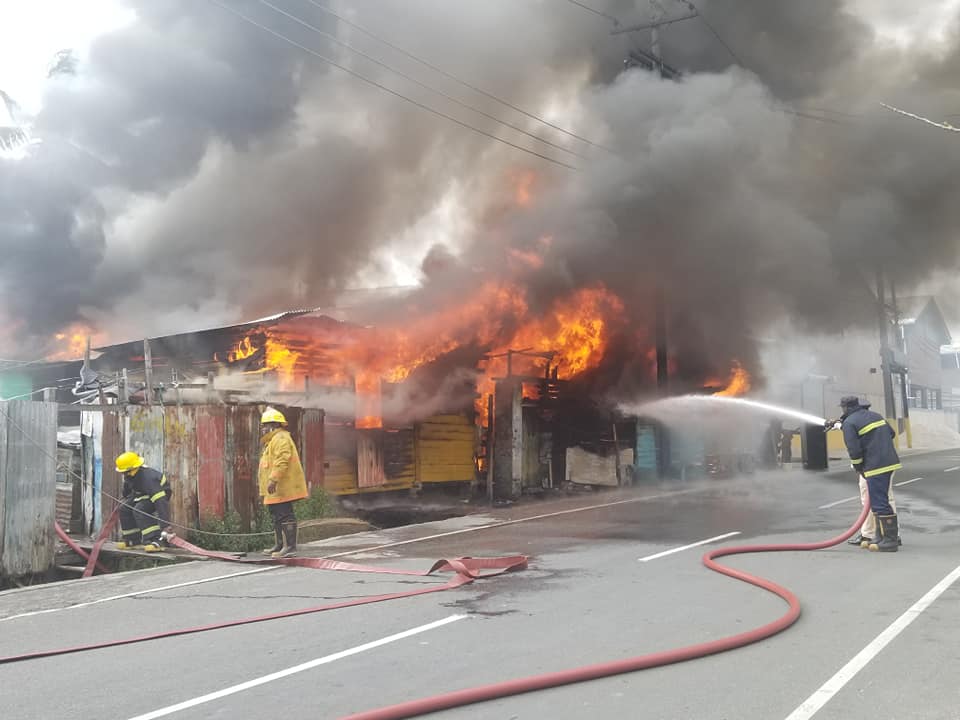 Meanwhile, Roxanne Austin said she was asleep when the alarm was raised.
"Everything I lose. I don't have anything…I was asleep. I jump up when I see what going," Austin said. Meanwhile, Tidicia Daniel explained that her attention was drawn to the fire after someone alerted her but the flames prevented her from saving any furniture and valuables.
"They claim that my brother cause the fire. I don't know 'cause I wasn't there. I hear people talking and when we look, we see the fire coming and it was uncontrollable so we couldn't save nothing," she related.
The woman praised the Guyana Fire Service for arriving promptly since other buildings in close proximity could have been damaged as well.
"It's a lot of loses everybody get. The fire service come on time and had it under control because if they didn't come, the whole square would've gone," said Daniel.
No injuries were recorded.
Back in 2017, the Central Housing and Planning Authority was on the verge of relocating the squatters from Broad and Lombard Streets after the owner of the property was granted a High Court judgement to have them removed.
Some 68 adults and 100 children have been living in the area and they were supposed to be relocated to Barnwell North, Mocha Arcadia but the residents of Mocha Arcadia, East Bank Demerara, protested over this move due to several social issues.
The Department of Housing, in collaboration with the Food For The Poor (FFTP) organisation were expected to construct 72 homes for the squatters. Government had said it will match the $42 million contribution by FFTP but the Government was not pleased with the house model and the project was reportedly stalled.
Meanwhile, the previous Administration had discussed plans to have the squatters relocated at La Parfaite Harmonie, West Bank Demerara, and on the East Bank of Demerara but they had refused to move from the area.