− says Junior Jags Assistant Coach Anthony Benfield
The Junior Jags, a mixture of local and foreign talents, are currently hard at work, gearing up for the Confederation of North, Central America and Caribbean Association Football (CONCACAF) Under-20 Qualifiers' tournament.
The November event is a ticket to the 2023 Under-20 World Cup and Olympics, and the Guyana Football Federation (GFF) is leaving no stone unturned in preparing this team for that level of competition.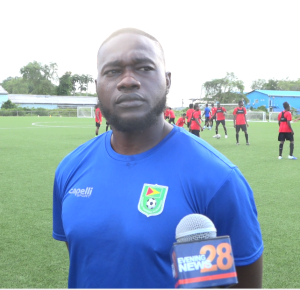 During a media engagement on Monday afternoon at the GFF's National Training Facility at Providence, EBD, Assistant Coach of the Junior Jags, Anthony Benfield, shared that the layoff since the last Under-20 outing in February 2020, owing to the coronavirus pandemic, has affected the team, but he is optimistic about their chances in the Dominican Republic.
Benfield said, "Definitely, you know, it's been a year out, a year (of) not doing anything. It's always going to be a factor; but, you know, we're still confident, we remain very optimistic in the work that we've been doing, and we're looking forward to the tournament."
Quizzed about the team's fitness after weeks of preparation, Benfield revealed that the support staff have been working with the ballers to help them reach a high standard of fitness.
"Well, obviously, the coach is working to bring the team up to fitness, so that has been going very well so far. And right now, you know, we're heading into the tactical phase," he revealed.
As the weeks before showtime wind down, Benfield said, one can expect continuous work from the team to get its members into the best shape.
"Slowly, but surely, the team is coming up to the standard that we want them to be, and that's a plus. You know, we have like two weeks to go, and we keep working; we'll keep working with them," the player-turned-coach has said.
The Junior Jags will go into action from November 4-15 in Santo Domingo, Dominican Republic. The Guyanese team is grouped with Nicaragua, Cayman Islands and the U.S Virgin Islands in Group D.
In February 2020, Guyana narrowly missed out on the subsequently-cancelled 2020 Concacaf U20 Championships, winning three out of four matches in a difficult qualification stage that included hosts and eventual group winners Nicaragua.