SBF Petroleum Jaguars One-Day 50 over Franchise League…
ꟷ Final round bowls off today
By Brandon Corlette
After six rounds of exciting cricket in the SBF Petroleum Jaguars One-Day 50 over Franchise League, defending champions Essequibo remains at the top of the points table with 25 points while Lower Corentyne sits in second position with 20 points. The final round of matches will bowl off today Thursday October 24 and the big match-ups will feature Essequibo meeting East Bank at Everest and Lower Corentyne playing Upper Corentyne at Young Warriors.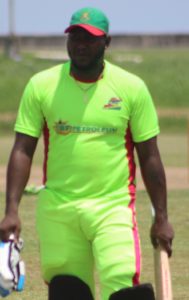 During the league, players have recorded some brilliant performances; the likes of Jonatan Foo, Kemol Savory, Ricardo Adams and Nial Smith are among those brilliant performers. After six rounds, Lower Corentyne's Foo leads the batting chart with 302 runs. Esseqeuibo's wicket-keeper batsman, Savory has been one of the most consistent performers over the years. He continued that consistency with 291 runs in this season.
West Demerara's Tagenarine Chanderpaul, fresh from a century, has 286 runs in the league while the consistent Quentin Sampson who hails from Essequibo has 237 runs. Sampson, known more for his bowling has discovered some prowess with the bat this season. West Indies Under-19 selectee, Kevlon Anderson sits with 231 runs for his Lower Corentyne franchise.
The mature teenager who bats at three, continues to press for selection in either the Guyana Jaguars team or the West Indies emerging team that will play the upcoming Regional Super50. In addition to Chanderpaul's century, Guyana Jaguars skipper, Leon Johnson, Trevon Griffith, and Kandasammy Surujnarine have recorded centuries.
Some of the top bowlers in the league are Ricardo Adams leading the charts with 19 wickets, snaring an 8-for including a hat trick, which was the second of the tournament after his Essequibo team mate, Joshua Jones took one in the earlier round. Ricardo, one of the three Adams brothers has also been among the runs in the tournament.
Tailing his 19 wickets is Lower Corentyne's paceman, Smith who has 17 wickets, including a stunning 6-41 against a star-studded Georgetown team. The right-arm paceman was unfortunate on two occasions to capture added five-wicket hauls as he ended in two matches with four-wicket hauls. Left-arm spinner, Gudakesh Motie has 15 wickets for his West Berbice Franchise. Kevin Sinclair, who has been one of the all-round talents has 13 wickets with his off-spin and 192 runs with the bat, including three player of the match performances.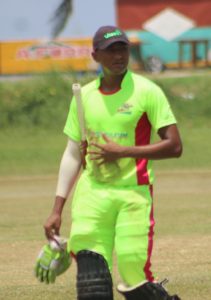 Other bowlers that made an impact during this league are Veerasammy Permual, Kelvin Umroa, Steven Sankar, Trevon France, Keshram Seyhodan, Keon Joseph, Richie Looknauth, Ronsford Beaton, Ashmead Nedd and Anthony Adams whom have all been in the wickets during the league, in addition to the top wicket-takers. In addition to the top two teams in the league, Essequibo and Lower Corentyne, the Shimron Hetmyer-led West Berbice team are in third position with 19 points followed by West Demerara with 19 points in fourth position.
East Bank with 14 points and Upper Corentyne with 14 points are in fifth and sixth respectively. Georgetown are in seventh with five points while the winless East Coast are yet to register any points in the league.