– Over 5000 hampers distributed during COVID-19 shutdown
The act of giving, for some people, is sometimes a nature-given instinct. They were just created for the godly task. Over the years, Food For The Poor Guyana Inc and all its supporters have been striving and successfully maintaining this goal of continuous charity.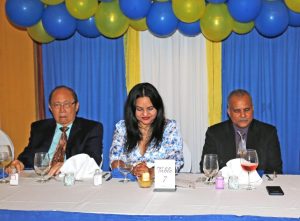 On Friday evening, the non-governmental organisation held its annual fundraiser dinner at the Pegasus Hotel in celebration of its 31st anniversary of providing charitable support to the less fortunate in Guyana.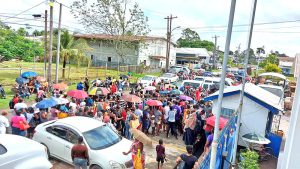 The fundraising dinner, in its first year since the COVID-19 pandemic that held the world at a standstill for two years, was met with packed seats and presentations on the organisation's upgrades and expected project execution in the coming months.
The crystal-lit ceiling of the Pegasus Hotel reception room set the mood for buffet-style dining, quiet conversations, and an overall relaxing evening.
The reception kicked off with remarks from Chief Executive Officer of Food For The Poor Guyana Inc Kent Vincent, who highlighted the vision of the organisation while also recognising what they have accomplished in their long 31 years of operations in Guyana – with contributions to the Health Ministry, the Georgetown Public Hospital Corporation (GPHC), and health centres across the country and so much more.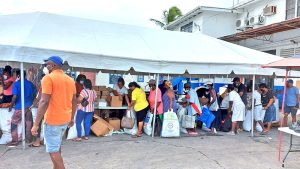 During the COVID-19 pandemic, Food For The Poor stepped to the plate and donated over 5000 hampers to persons in Regions Two, Three, Four, Five, Six, Nine, and 10.
Vincent, earlier in the month, had spoken of the growth of the organisation over the years and the need for all staff to be aligned to the organisation's new vision as it seeks to expand its outreach and sustainable community development projects to the vulnerable in the hinterland regions.
On Friday, he reiterated that the organisation has taken a step to refocus its vision and be more strategic in its approach to serving the needy and poor.
"The new vision of the organisation, which places great emphasis on sustainable community development which translates to the transformation of the communities and income generation programmes for the needy," CEO Vincent said.
However, for this strategy to see successful implications, there must be a partnership between the organisation and other entities, Vincent noted.
"In these changing times, the organisation is refocusing its collaboration with partners, to be more strategic and more intentional to ensure that there is no duplication of efforts and that collaborative partnerships are complimentary."
Moreover, Vincent shared that the organisation's projects and outreaches will be extended to the hinterland regions, where he said "many of the poor are located".
Several projects have already commenced in Region One (Barima-Waini).
To this end, the Chairman of the Board of Directors, Paul Chan-A-Sue, expressed that the organisation is working on establishing a storage facility in the region that would make it easier for the distribution of items to persons in the hinterland communities.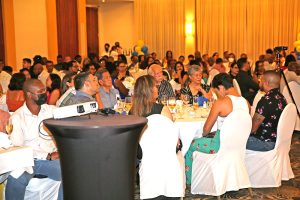 "We are going to be moving to Region One and we will be working with the people there. The idea is to build a storage area there and from there, distribute in that area, initially. That is one thing that is going to happen," Chan-A-Sue said.
Human Services and Social Security Minister, Dr Vindhya Persaud hinted that her Ministry may partner with the organisation on a diaper bank project.
This collaboration awaits discussion between the two organisations. The project aims to provide diapers to the elderly, babies, and persons with disabilities who may require diapers.
"I have no doubt that I'll find a ready partner in Food For The Poor based on the discussion that we are going to continue," Dr Persaud mentioned.
The Social Security Minister's brief remarks were followed by the dinner and then by a sweet rendition of "You Are The Reason" by Calum Scott by children, Kevin Eiffel, and Angela Josiah before the organisation launched its volunteer programme, Helping Hands.
The programme aims at creating a space for persons who are willing to partake in charitable work.
The relaunch of the Food For The Poor Guyana Inc website followed, with upgrades to its interface and layout. The website takes a more modern feel with easy navigation and looks from its previous format.
Meanwhile, concluding the 31st anniversary celebrations, the organisation held its largest outreach since the year began on Saturday.
Persons from North Ruimveldt, Sophia, and Georgetown, on Saturday, amassing over 800 persons, benefited from a Food For The Poor distribution outreach at their Blue Mountain Road, Festival City location.
Items such as rice, flour, canned goods, hand sanitiser, and disinfecting wipes were distributed. In addition, face masks, and personal care items were also handed out to persons. (Shane Marks)