Local athletes in and out of Georgetown will benefit from a timely donation of running shoes from former national athlete Robert Bacchus Bynoe.
The presentation of more than one dozen shoes will benefit the following clubs: Super Upcoming Runners Track Club, Titans United Athletic Club, and Running Brave Athletic Club.
The donation was received by Cornell Rose, Junior Cornette and Julian Edmonds, respective coaches of the clubs.
Currently living and working in the United States as an accountant, Robert Bynoe enjoyed his glory days in sport in the 90s.
A former student of the St. Roses High School, Bynoe still holds the national record for both senior and junior high jump. The former athlete explained that he is all too familiar with the constraints of not having accessible resources, and for that reason, he decided to give back to his countrymen.
"As a young man not having come from the wealthiest of families, I was fortunate to have my talents recognised and fostered by some very generous people, (who) helped me along my journey. Without them, the man before you probably wouldn't have existed, and that is why I'm delighted to make this presentation today to young athletes and pay it forward," Bynoe stated.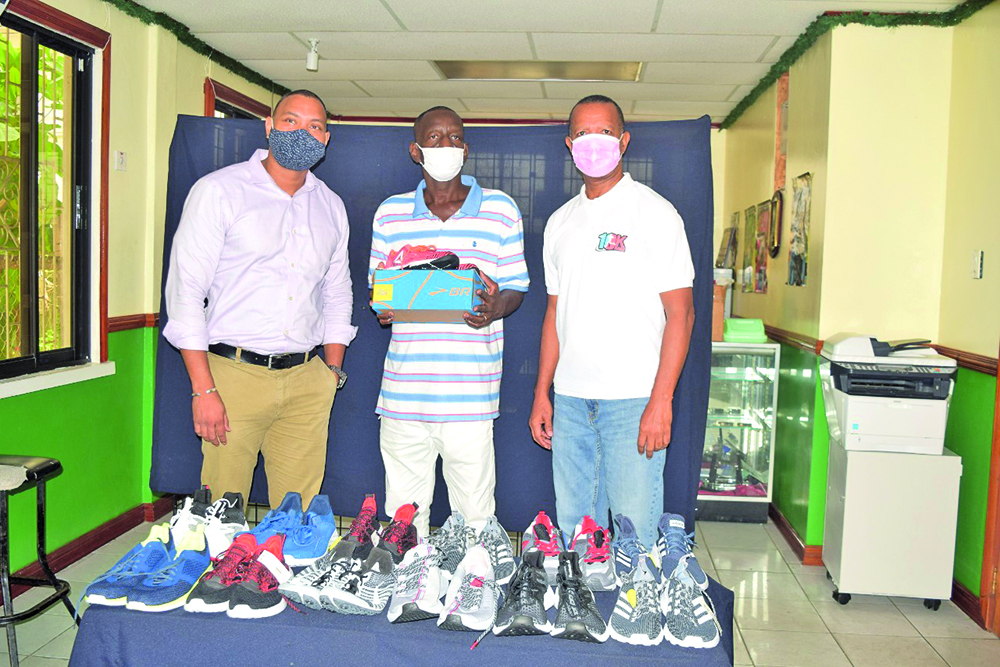 Further, he shared, "I fully understand the needs of our local athletes, and I know first-hand what education and opportunity can bring. I stand here today having benefited from the (Guyana) Amateur Athletics Association's network, the organisation's resourcefulness, diligent coaches, supporters, and a lot of improvising on my part due to lack of facilities.
"I'm happy to see that we're turning the corner in a different era, and athletes have got a lot more going for themselves and support today."
Meanwhile, President of the Athletics Association of Guyana, Aubrey Hutson, in accepting the donation, declared that it has come at an opportune time, and how it will be utilised.
"These shoes, I mean right now we're in the cross-country season, so they're going to come in very, very handy for athletes who are going to be going out there to train, and even compete in. we're very honoured to know that we have in our presence still the record holder at high jump," Hutson said.
He added, "What we're looking for at this time in our sport is for folks like you to be role models."
The AAG President went on to express his gratitude to Bynoe on behalf of the AAG and the athletes.
"But all in all, in a nutshell, I want to say thank you very much for this timely donation; and the Athletics Association of Guyana and the clubs that are affiliated to us, and the athletes by extension, we are really and truly happy. Thank you!" the AAG President stated.
Hutson also shared that he is hoping to have portraits of national athletes and record holders mounted at their respective alma maters, and that Bynoe's portrait would be among the set.