Steve Bacchus, who was wanted by the Police for questioning in relation to several criminal offences, was on Tuesday charged for being in possession of a quantity of ganja.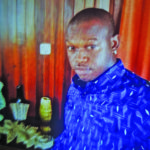 Bacchus made his appearance at the Georgetown Magistrates' Courts and pleaded not guilty to the charge when it was read to him by Principal Magistrate Sherdel Isaacs-Marcus.
Police stated that the 27-year-old labourer, of North Sophia, Greater Georgetown, had six grams of cannabis in his possession between November 24 and 25, 2019 at North Sophia.
Bacchus was represented by Attorney-at-law Dexter Todd, who told the court his client should be granted bail since the offence is a bailable one.
He further told the court that his client turned himself in to Police after learning that a wanted bulletin was issued for him. The lawyer stated that his client maintained his innocence throughout interrogation by Police.
The Prosecutor, however, objected to bail being granted on the grounds that Police were still carrying out investigations in relation to the defendant being in possession of an illegal AK-47, a rifle and matching ammunition.
The Prosecutor further opined that the defendant would not return to court if bail was granted. The Magistrate, nevertheless, granted Bacchus bail in the sum of $5000.
Bacchus was then instructed to make his next court appearance on December 9, 2019.