Besides the mainstream sporting activities that occur locally on a weekly basis, there are still some institutions that are interested in fitness and sport activities, both of which are essential for individual development. One such institution is St. Rose's High School.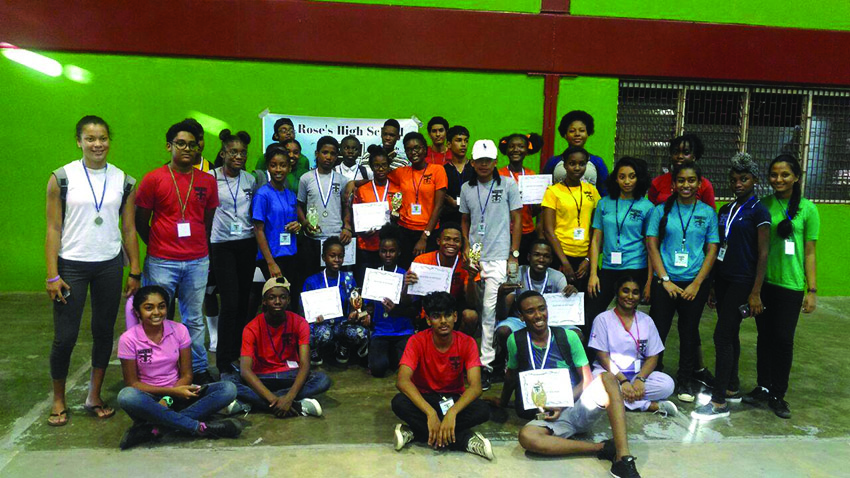 On Friday, June 30th, 2017, the fourth form students of the Physical Education and Sport class of St. Rose's High School hosted the Master of Fitness competition at the National Gymnasium as part of their school- based assessment (SBA).
The National Gymnasium, situated at the corner of Mandela Avenue and Princess Street, was the place to be as the spectators enthusiastically supported the day's activities.
There were three categories in the competition: 11-13, 14-16, and 16-and-over, with each consisting of three rounds of exercise. After all the challenges had ended, eight participants were rewarded — six (6) for their outstanding performances within their respective category, and two (2) for their overall performance pertaining to their technique and consistent performance throughout the competition. The rest of the participants were given medals and certificates for participating and completing the challenge.
In the 11-13 category, Hannah and Hailie Caesar were crowned best male and female participant respectively; while in the 14-16 category, Kelly-Ann Liverpool and Atilla Williamson were crowned respective best male and female participant. In the 16-and-over category, the respective best male and female participant were Noelex Holder and Keianna Felix.
Two other participants — Cherry-Ann Fraser and Mark July — were respectively rewarded with plaques as they were crowned the overall best male and female participant in the competition.
According to a school representative, the competition was planned and executed by teenagers, and was guided by the Physical Education and Sport teacher. The representative said it was certainly an unexpected breath of fresh air to watch such displays of determination on the faces of the participants.
The Master of Fitness competition would not have been successful without the help of the following sponsors: Maritime Administration Dep., Rudisa Motor Company Guyana Inc., Banks DIH Limited, Andrew's SuperMarket, Church's Chicken, Randolph's Welding, Rush, M&J Variety Store, E-Signs & Designs, Fitness Express, and Triple A Taxi Service.