A search exercise conducted by ranks of the Guyana Police Force and the Guyana Prison Service (GPS) resulted in the discovery of a number of prohibited items at the Mazaruni Prison, Mazaruni River, Region Seven (Cuyuni-Mazaruni).
The search was conducted on Saturday between 06:00h and 10:15h by members of the Guyana Police Force, headed by Deputy Commander for Regional Police Division 7, Deputy Superintendent Oswald Pitt along with Second in Charge of Mazaruni Prisons Superintendent David Shepherd. They were assisted by ranks of both Bartica Police Station and Mazaruni Prison.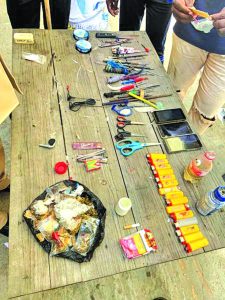 The search was carried out in the bricks, the security block, the dormitory, and the stores.
During the search, three cell phones, 42 improvised weapons, eight chargers, fifteen lighters, one knife, three pairs of scissors, and a number of suspected cannabis leaves, seeds, and stems were discovered.
The narcotics were weighed and amounted to 116 grams. The prohibited items were lodged at the Bartica Police Station. Recently, 826 kilograms of ganja was found at the Mazaruni Prison, during a search at the facility.
Police stated that the search was conducted along the outer wall of the Mazaruni Prison and on the western side, where a black plastic bag containing ten parcels of ganja was found.
The cannabis was reportedly wrapped in plastic wrap. In addition, 1.5 litres of alcohol and a quantity of smoking wrappers were also found. The Police were contacted and the narcotics and other prohibited items were handed over.