…energy surplus would allow for expansion of industrial development
President Dr Irfaan Ali is confident that when Guyana begins producing energy from natural gas, it would be in a capacity that would exceed local demand for energy and lead to an expansion in the manufacturing sector.
During his address to the Harvard Microeconomics workshop on Monday, President Ali noted that with the US$900 million gas-to-shore pipelines coming on stream, Guyana's energy capacity is likely to exceed energy demand.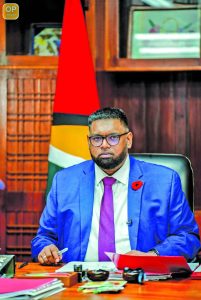 "We've launched our gas-to-energy project. Earlier, I outlined to you how important energy is in terms of our competitiveness. So, the gas-to-shore energy project would use associated natural gas produced offshore Guyana, starting with Liza 1, then Liza 2, and Payara. The estimated investment is roughly around US$900 million," he explained.
"The natural gas production is expected to exceed the country's current demand. More major investment opportunities will become available for the use of natural gas. As a result of this, we're in the process of building an Industrial Development Authority in Wales," the President said.
This excess energy, according to the President, would be used to power additional industries. The Wales Industrial Zone, he explained, would facilitate new industries, including fertiliser production for the agriculture sector.
"This would bring in new industry. Fertiliser to support our local agriculture production. And the purpose is to become the major supplier of Caricom (Caribbean Community) food requirements," the President said.
"We're looking, for example, at new innovations in the sector. Protein plants using natural gas to create protein pellets that will be used in feed production and livestock. So, it is using the natural resource to enhance our competitive advantage in different sectors," he explained.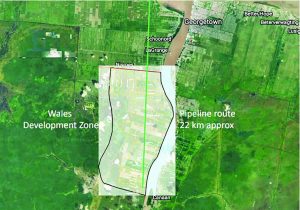 According to Ali, over 200 Megawatts of electricity will be produced. He noted that the cost of energy is one of the greatest hindrances to the manufacturing sector. And President Ali also assured the academics present during the webinar that natural gas would not be the only source of this additional power generation.
"On the energy side, over 200 Megawatts of electricity will be produced. And one of our most inhibitive factors for manufacturing, that inhibits our competitive advantage for manufacturing and industrial development, is the cost of energy," he added.
With works moving apace for the much-anticipated gas-to-shore project that will fulfill Guyana's energy demands effortlessly, Government has been looking at alternative uses for the excess gas which will become available.
Earlier this year, Natural Resources Minister Vickram Bharrat told media operatives that while Government was focused heavily on energy generation in the gas-to-energy project, the excess natural resource produced represented a significant figure and could be converted to another use. Bharrat had said Government was yet to make a decision, but was contemplating several avenues.
"The project would focus primarily on energy generation, because that is our biggest problem in Guyana. We need cheaper, more reliable and cleaner energy. This project would solve that problem. However, based on [what is] guaranteed now from Exxon in terms of the amount of gas coming in, there will be a few million that would remain, so we would have to find ways which we would utilise it to ensure that we may be in some small petrochemical industry, maybe fertiliser. We have not decided," the Minister had said.
The gas-to-shore project is a game-changing initiative that would see gas from the Liza Field offshore Guyana being pumped onshore to generate power by 2024. The main objective of the initiative is to transport sufficient gas from the Stabroek Block's petroleum operations to supply some 200-250 megawatts of energy to the national grid, leading to a significant reduction in electricity costs.
The Government has already issued an order to compulsorily acquire land that would be used to construct the gas-to-shore project and lay the gas pipeline from Nouvelle Flanders on the West Coast of Demerara (WCD) to Canal Number One Public Road on the West Bank of Demerara (WBD).