Staffers of the Guyana Bank for Trade and Industry (GBTI) on Thursday distributed over 200 kites to students of the Eccles Nursery School on the East Bank of Demerara (EBD).
Easter will be celebrated in just over one week, and GBTI kick-started the festivities with a kite distribution exercise that brought countless smiles to the faces of these children.
Senior Supervisor of the Providence Branch, Devendra Jaggernauth, was present during the exercise. He noted that while it is the first activity, the bank is hoping to make it an annual one.
"We're basically distributing a few kites to the students of the school. It's the first initiative for our branch, and we're hoping for it to be something annually done. We have approximately 270 students along with 15 teachers and non-clerical staff. I know it's something the kids would enjoy, and we're just brightening their spirits for the Easter season," Jaggernauth explained.
He was assisted by employees who gifted other items after students would have answered a few trivia questions.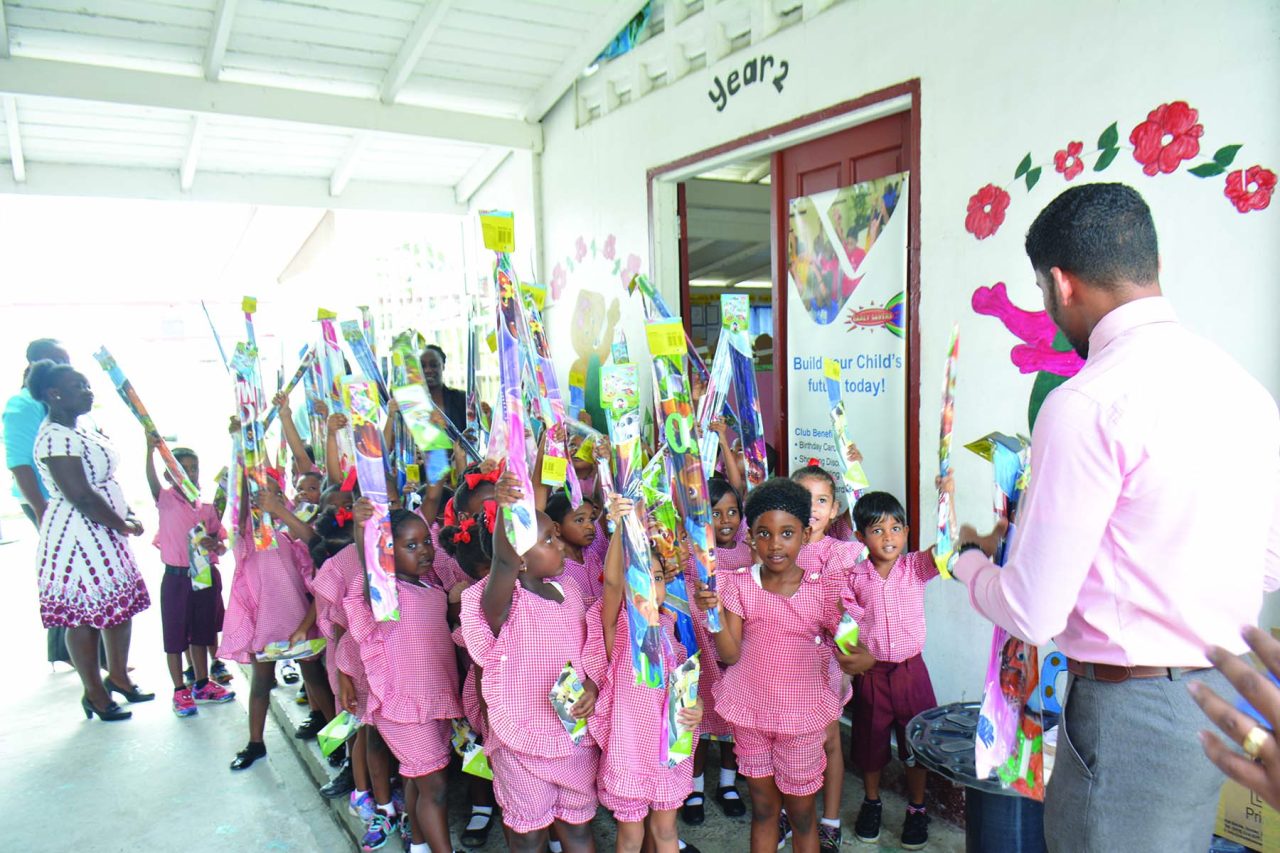 Over the years, GBTI has been active in fulfilling its corporate responsibility through numerous initiatives. Teachers of the school thanked the banking institution for its gesture during this Easter season.
Meanwhile, over at the Sophia Care Centre, Emerge BPO distributed a number of kites which were made by their employees. Over 70 youths from age four to 18 reside at the Care Centre, and they were elated with the presentation of kites. Chief Executive Officer of Emerge BPO, Heidi Soloman, said all of the materials used to make these kites were environmentally friendly.
"Emerge is a Guyana-founded organisation. We've been in business for about 10 years, and one of our primary focuses is wanting to give back to the community. This month, with is being the Easter season, we had our employees join together and come up with handmade kites," she explained.
The company provides a range of customer-care services, and currently employs some 600 persons.
Easter signifies the resurrection of the Christ, and will be celebrated on Monday April 22.