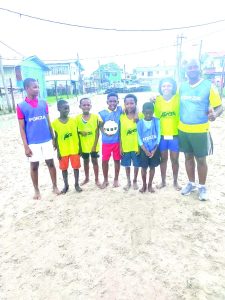 January 1st, 2023 proved to be one of the brightest starts to any year for the young football fanatics in the Georgetown community of Albouystown, because President of the Guyana Football Federation (GFF), Wayne Forde, visited the area and interacted with a number of budding young footballers.
During that visit, President Forde handed over a quantity of balls, cones and bibs to Coach Clifford Anthony, aka Zebulun, a senior member of the community who, for many years, has been volunteering his time as a coach and mentor to young boys and girls there.
During his visit to Albouystown, President Forde also played in a 5 V 5 Mini competition. "I know how important football is to all of you, and I can see how well you can play because of the many hours you spend in the streets playing. I want to ask you a big favour: please also spend some of that time on your school work in the evening. Education is your safest bet to having a better life.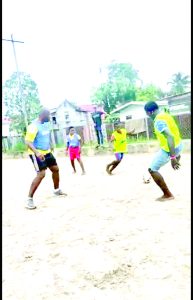 "I will continue to provide Coach Zebulun with more equipment to do this important work, and will be back here to officially launch an inter-street weekend knockout competition for boys, girls and adult players as well. It is my intention to visit many more inner-city communities and support the work of community coaches," Forde has said about the initiative.
The visit to the community was coordinated by Coach Sampson Gilbert, who is a Coach educator assigned to the GFF.