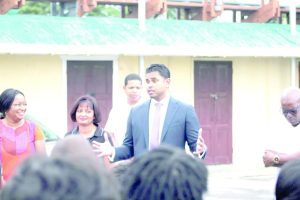 The Guyana Badminton Association (GBA) has had a successful 2022, achieving, among other things, the following goals:
1. The year started off with the launch of the Badminton Nursery Academy on January 03, 2022, and resumed at the Queen's College after refurbishment of the Badminton Courts in the Auditorium.
2. In March 2022, Narayan and Priyanna Ramdhani had a very successful year on the Collegiate Circuit, where Narayan placed 1st in the Provincial Men's Singles Championship and Priyanna placed 3rd in the Women's Singles.
They then went on to the Canadian Collegiate Athletics Association (Nationals), where Narayan placed 4th in singles and Priyanna placed 3rd in doubles.
Narayan Ramdhani won the coveted All Canadian Award 2022, the Athlete of the Year, and All Conference Award.
3. Guyana was represented at 5 international tournaments beginning in April. Narayan Ramdhani, Priyanna Ramdhani, Akili Haynes and Tyrese Jeffrey participated in the Panam Individual Championship in El Salvador, where Narayan and Priyanna Ramdhani got to the quarter finals.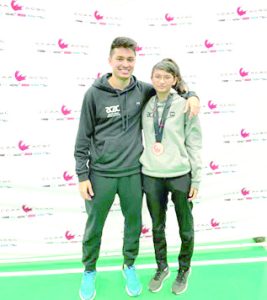 4. Guyana was represented by Matthew Beharry in the South American Youth Games in Argentina in May.
5. At the July Commonwealth Games in Birmingham, England, Guyana was represented by Narayan & Priyanna Ramdhani, who qualified to participate.
6. At the South American Games in Paraguay October, 3 persons were qualified: Narayan and Priyanna Ramdhani and Akili Haynes.
7. At the El Salvador International, Priyanna Ramdhani was given a Gender Equity travel grant by Badminton Panam to participate in December. In March 2022, the GBA visited the community of St. Cuthbert's Mission and promoted AirBadminton, and also donated equipment for the community to continue playing the sport.
The tournaments the GBA hosted were:
1. GUMDAC AB&C Division Tournament in April
2. The GBA held a tournament to commemorate World Badminton Day, which is celebrated worldwide on July 5. This was the inaugural year.
3. At the GBA National Junior Tournament in October, 2022, students from the Nursery Badminton Academy participated, as well as a few players from Berbice.
4. the other local GBA tournament, which can also be considered an international tournament, was the Inter-Guiana Games in November. Suriname got the better of Guyana, but Guyana had fielded a young team compared to theirs. It is a team the GBA would continue to work with.
Again, 3 persons were from the Badminton Academy, two from Berbice and the others from Yonex Badminton Club.
5. GBA was schedule to have another local tournament, and that for the first time: the Gokarn Ramdhani Classic, a memorial tournament to honour the late President of the GBA. This was a brainchild of Sport Minister Charles Ramson Jnr. However, due to the refurbishment of the Cliff Anderson Sports Hall and clashes with other sports discipline, this tournament was not held, but the GBA is looking forward to having it done in a bigger and better way in 2023.
The GBA has said, "We are very happy with the progress of having the Sports Hall completed, which was long overdue. For 2022, the GBA's major accomplishment, which were made possible through the Hon. Minister of Sports Mr. Charles Ramson, The National Sports Commission and the Government of Guyana, was finally a home for Badminton. The GBA is truly grateful and extremely excited over this huge accomplishment. Hats off to the stakeholders!"