– as GBGWU calls for a national response to issue
As the issues regarding aluminium company RUSAL and its workers intensifies, Natural Resources Minister Raphael Trotman has now instructed the Guyana Geology and Mines Commission (GGMC) to commence a technical review of the company's operations.
In addition to that, Trotman said a team from his Ministry will be travelling to the company's interior operation to make an assessment because Government has received credible news from workers that RUSAL has been dismantling its equipment.
"Is it telling us that they are shutting down their operations? Or is it telling us that we have to prepare to suspend their operations? So, I have asked for a technical assessment to be done and that is being done as of today (Wednesday)," he told Guyana Times.
Trotman noted that Government is disappointed, distressed and disturbed by the turn of events regarding the RUSAL matter. While acknowledged that Government has been unsuccessful in its attempts to resolve the issue, he noted that good sense must prevail.
The Minister noted that while Government would like to see its citizens earn a liveable wage and have a dignified working environment within which to operate, it is their objective to see investors come to Guyana and get a fair rate of return on those investments.
However, he asserted that each of these companies must operate within the confines of the law that define the relationship they have with workers and the State. "The Government believes that it has done its part and the workers' rights are paramount and must be respected. And Government prepares to stand with the workers or convince RUSAL that better can prevail."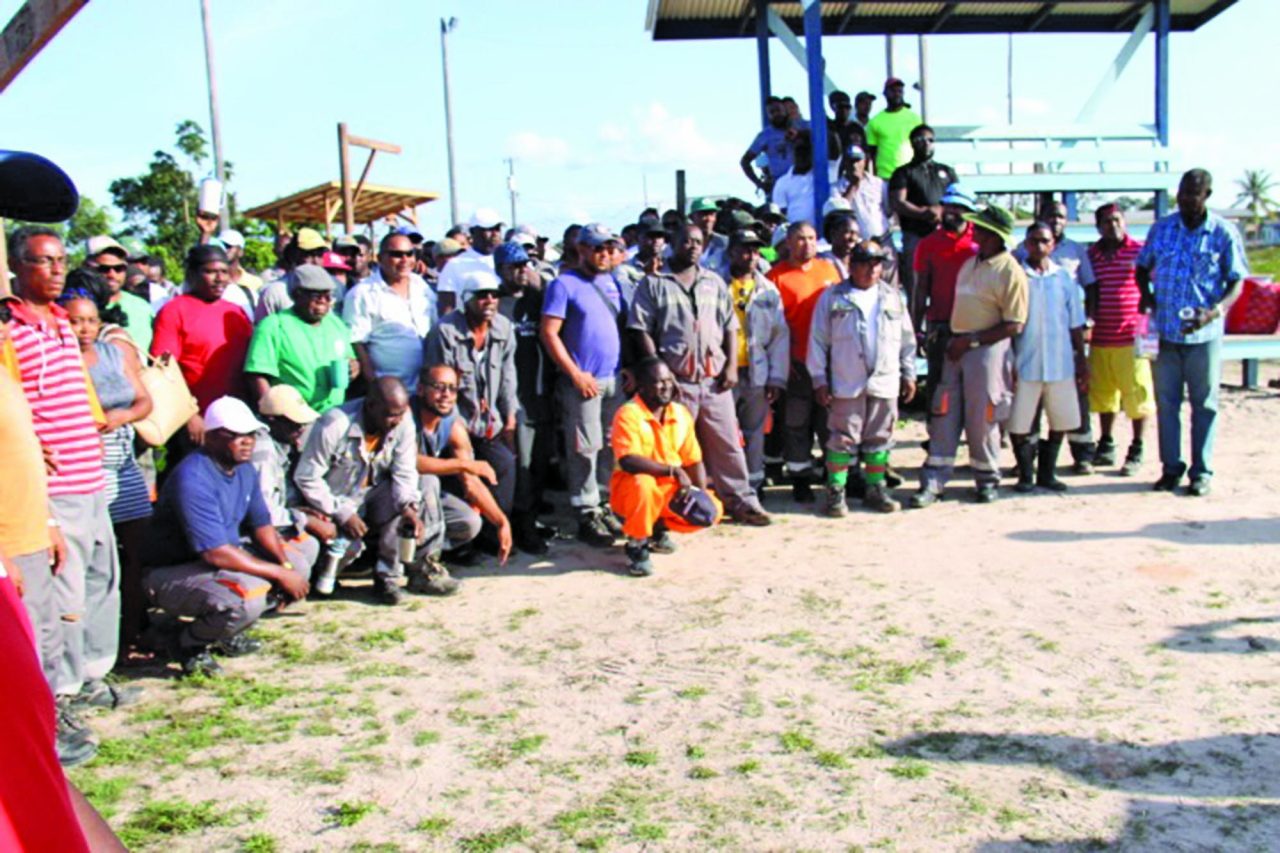 Meanwhile, President of the Guyana Bauxite and General Workers Union (GBGWU), Lincoln Lewis, said the situation has become one of national importance and would require all trade unions, Government and the Opposition to work together towards bringing an end to this issue.
"And for it to be a national response, we have to see President David Granger and Opposition Leader Mr (Bharrat) Jagdeo together sitting down with the unions to make a decision on this."
While RUSAL has threatened to close its operations here, Lewis said it is their right to do so, but noted that as long as they are here, they will have to respect the country's laws and respect workers' rights.
Sixty striking workers were dismissed by bauxite company – Russian Bauxite Company of Guyana Incorporated (BCGI) – which is owed by RUSAL, for downing tools in protest of an arbitrary one per cent salary increase.
On Tuesday, residents of Kwakwani, Region 10 (Upper Demerara-Berbice) in disagreement with the dismissal of the striking employees attached to the company retaliate by blocking the access road which leads to the company located at Aroaima.
During initial deliberations, representatives of the company stated that they do not recognise GBGWU, which has been advocating for the affected workers.
A meeting was later held with Minister of State Joseph Harmon; Natural Resources Minister Raphael Trotman; Social Protection Minister Amna Ally; and Junior Social Protection Minister with responsibility for Labour, Keith Scott; along with RUSAL's representative Vladimir Permyakov and Director of Alumina and Bauxite Department at RUSAL, Sergey Kostyuk; met to discuss ways in which the issue can be resolved in an amicable manner.
And after assurances by Government that the fired bauxite workers will be reinstated, RUSAL has refused to do so, signalling their intentions of having the 61 workers replaced by the end of the week.
According to RUSAL, those who are not on the job have not received any payments and they have moved towards inviting persons who have a desire to join the company to do so.
However, notices were issued to an additional 30 workers, informing them that they are not to turn up for work until further notice. According to the company, the company reserves are not as lucrative to investors as they were in the past.
These statements were met with strong opposition from Minister Ally, who labelled RUSAL's actions as unreasonable and unthinkable.