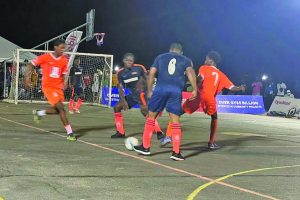 Hard Knocks, Gold is Money, Young Gunners and YMCA kept their unbeaten streak alive in the ExxonMobil Futsal tournament, following Friday night's action at the Retrieve Hard Court in Linden.
Hard Knocks, led by the unstoppable John Waldron's five-goal rampage, dominated Fearless with a 16-2 victory.
Marley Major and Shavanne Seaforth added hat-tricks to the goal-fest, while Omar Brewley, Kevin Beaton, and Clive Nobrega chipped in with a goal each as Hard Knocks clinched their spot in the tournament's quarter-finals with style.
Gold is Money, eyeing that tempting $1 million winner's purse, thwarted DC Ballers with a 6-2 win.
Joel Isaacs and Calvin Drakes each scored twice, and Kenard Simon joined the party with another pair of goals.
DC Ballers managed to sneak in a couple, thanks to Nicholas Gentle, but Gold is Money stood their ground.
Young Gunners showcased their prowess with an 8-2 victory over Coomacka.
Kamar McLean and Demall Warner stole the spotlight with their hat-tricks, while Rodensio Tudor added a delightful double to the scoreboard.
YMCA unleashed an 11-1 drubbing on Golden Stars, with Jonah Simon netting seven goals and Kevin Gettins securing a hat-trick.
As the tournament heated up, the final group-stage matches took place Sunday evening, setting the stage for an electrifying quarter-final round scheduled for Wednesday.