Fierce rivalries were birthed at the Ministry of Education (MoE) Ground on Saturday when the seventh edition of the Petra-organised MVP Sports Girls' Under-11 football tournament commenced.
With the tournament taking on a straight knockout format, the little ladies had all to play for, with some close encounters witnessed.
First off, Tucville Primary edged Smith's Memorial Primary 1-0. Wolette Griffith found the back of the net in the 32nd minute to seal Tucville's win.
At the same time, Potaro Primary were executing a 2-0 victory over FE Pollard Primary. Alesha Gonsalves struck first in the 15th minute, while Reniese Joseph scored in the 38th minute for Potaro.
St John the Baptist Primary had a field day when they came up against Genesis Primary in the following game.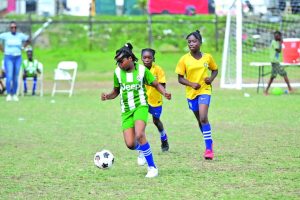 Shemia Hing led the charge for St John the Baptist with a hat-trick in the 4th, 15th and 37th minutes. Neisa Lewis found the back of the net in the sixth minute, while Jaziah Rodrigues struck in the 17th for the 5-0 win.
Next, West Ruimveldt Primary defeated St Aloysius Primary 4-0. Ariel Farley netted the second hat-trick of this year's tournament, in the 4th, 5th and 15th minutes, while Thea Valentine added the fourth goal to West Ruimveldt's tally in the 40th minute.
During the following game, Marian Academy had another scoring party, defeating One Mile Primary 5-0.
This time, Skylar De Nobrega was the leading lady, netting four goals for Marian in the 14th, 33rd, 38th and 40th minutes. Chrissyanne Persaud found the back of the net once in the 24th for the 5-0 win.
In the final game of the day, defending champions North Georgetown Primary overcame a fierce test from Friendship Primary. After a stalemate at the end of regulation time, North Georgetown prevailed 2-1 on the account of penalty kicks.
The MVP Sports tournament will continue next Saturday at the same venue. Teams are playing for a $150,000 grand prize that will go towards a school project of the winners' choice. Second to fourth place will cart off $100,000, $75,000 and $50,000 for the same purpose. Additionally, the top four teams will receive $100,000, $50,000, $50,000 and $50,000 in sports gear. Teams placing fourth to eighth in the competition will also receive $25,000 in sports gear.