Day three of the ongoing Ram & McRae National Open Chess Championship Qualifiers saw some major upsets in the expected progression of the tournament at the National Stadium.
In round five, 13-year-old Sachin Pitamber defeated long-time senior player Justino DaSilva, who resigned when he realised the ominous threat of two connected passed pawns gaining strength and marching to promotion, sealing his demise.
In the same round, Junior Champion Keron Sandiford bounced back after defeating his senior counterpart Gilbert Williams. He lost his round four game to fellow junior Ethan Lee. After a four-hour battle against veteran Errol Tiwari, Lee claimed victory when the senior player exceeded his time control. Round five also saw 15-year-old Alex Benjamin draw his game with the experienced Rashad Hussain.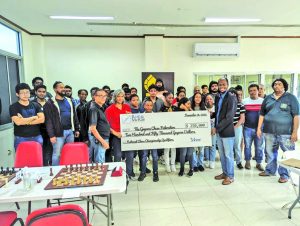 By round six, young Pitamber had battled his way to Board 1 to face off against Candidate Master and former National Champion Taffin Khan. Khan maintained an advantage throughout the game after winning a pawn and proceeded to victory. On Board 2 of that round, Benjamin went head-to-head with Lee, but could not add to his score. Lee built an advantage from the inception, chipping away at Benjamin's pieces to secure the point. Sandiford on Board 3 claimed victory against Hussain, whose game was even until the end game, where Hussain, outdone by Sandiford's end-game prowess, resigned after losing a pawn.
CM Khan maintains his lead with six points, Lee is on five, while Pitamber and Sandiford are on 4.5 points. Roberto Neto is on four points after losing to Khan in round five and being unable to play in round six. Justino DaSilva and Gilbert Williams are on four points. Senior player Loris Nathoo, who made a comeback after losing to Sandiford in round three, is also on four points. Rolex Alexander, who missed round one, is also on four. Hussain, Benjamin, Kim Shing Chong, Shiv Nandalall and Saeed Ali are on 3.5 points.
The tournament sponsor, Ram and McRae Chartered Accountants was on hand to present the sponsorship cheque to the Guyana Chess Federation (GCF). In a short ceremony, the firm's Accounts Manager, Felicia Hack handed over the cheque to the Federation's Company Secretary, Marcia Lee. Ram & McRae Attorney-at-Law Christopher Thompson spoke on behalf of the company, expressing the view that since chess is a relatively inexpensive sport, infrastructure was mostly in place for promoting the game in schools across Guyana, not just on the coastal plain. Thompson emphasised that hinterland communities must be included in this expansion and urged collaboration with the Ministry of Education. He further expressed that Ram & McRae was happy to sponsor this and similar events in the foreseeable future.
GCF President Anand Raghunauth confirmed that chess has been introduced at Dolphin Secondary School, St John's College, Richard Ishmael Secondary School, and St Joseph High School, with Queenstown Secondary to be included soon, as part of their curriculum by the Ministry of Education through its Allied Arts Division in collaboration with the Federation. GCF-certified teachers are attached to these institutions and so far, almost 500 students have been introduced to chess and are receiving further instruction.
Ram and McRae Managing Partner Christopher Ram observed he was a past student of Dolphin Secondary School and was gratified that his alma mater was part of the initial rollout. In his address to the tournament players, he reminded young players of the importance of strategy and committing fewer mistakes as practice becomes routine. Ram's view was that despite the outcome, both players were winners, as both could take away a positive experience, either from outright victory, from learning from mistakes made, or from exposure to new methods of play.
President Raghunauth thanked Ram and McRae for its contribution to the development of chess in Guyana. He went on to emphasise the importance of chess to the minds of young and old alike and the benefits that chess could bring to individuals, schools and the community at large.
The final games, rounds seven and eight, were scheduled to be played Sunday, November 19 at the same venue.