Opposition Leader Bharrat Jagdeo says that the governing APNU/AFC coalition, even after nearly five years in office, has failed to come up with proper solutions to tackle the challenges within the security sector.
Speaking at his weekly press conference on Thursday, Jagdeo was at the time commenting on remarks made by President David Granger during a breakfast feast with senior ranks of the Guyana Police Force on Wednesday.
The Head of State told the senior law enforcement ranks that Guyanese desire a Force that they can trust and as such, charged them to ensure that they understand their roles so that they can fulfil their responsibilities.
However, Jagdeo pointed out that while it is true Guyanese indeed desire a Police Force they can trust, there have been no effective solutions to achieve this.
"You've been President for coming up to five years and people want to hear more about how you're going to solve the crime situation in Guyana and how you're gonna get the Police Force they can trust. You can't just declare it that this is what people want. Yes, we agree – all of us want that but how do you get there?" he posited
According to the Opposition Leader, finding such solutions starts with first accepting that there is a problem.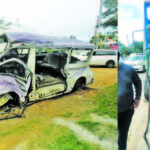 "So we're getting these one-liners all the time with no solutions. [Public Security Minister Khemraj] Ramjattan has been a huge failure. Saying he's been an abysmal failure is an understatement. Ramjattan has been a total failure in this sector and Granger, as the Chief Executive in the Government, he doesn't address the issue," Jagdeo contended.
Turning his attention to the tragic traffic situation, the Opposition Leader noted that a national approach is needed to curb the growing number of deaths on the country's roadways.
"I just want to say we express our sympathies to all those who have lost their lives in these horrific accidents that seem to be plaguing our roads. Clearly, there has to be some national – not a political, not a partisan – approach to this matter to bring safety on our roads because too many productive Guyanese lives are lost because of these accidents etc," he asserted.
Jagdeo went on to say that the Opposition People's Progressive Party (PPP) will support any such a national approach tackling the existing road carnage.
"So we are willing to be part at any time of any team that will approach this matter in a way that it deserves, and from a national perspective, not a political or partisan perspective," he stressed.
As of December 8, a total of 115 road deaths were recorded – a figure which surpassed the total number of traffic fatalities in 2018. In fact, Traffic Chief Linden Isles told Guyana Times at the time that these deaths were recorded from 98 accidents.
However, there have since been many other road accidents which have claimed the lives of Guyanese. Only Wednesday, a horrific crash between a minibus and a beverage delivery truck at Fairfield, Mahaicony, East Coast Demerara resulted in the death of six persons.
Police Commissioner Leslie James, at several events this week, repeated the need for road users both drivers and pedestrians to change their attitude on the roadways to ensure the safety of not only themselves but fellow Guyanese as well.
Similar sentiments were echoed by the Georgetown Chambers of Commerce and Industry (GCCI) in a statement on Thursday. The Chambers recognised that poor enforcement of traffic laws is among several factors that contribute to the road carnage.