"You can't go and tell someone who is living in an abusive situation to leave without any form of help. Here in Guyana, we do not have homes or shelters for battered women."
Those were the sentiments of Managing Director of the Caribbean Voice, Bibi Ahamad during a recent interview with Guyana Times.
Ahamad, a survivor of domestic violence believes that there is a grave need for more safe houses to be constructed to provide a sense of hope for victims, especially single mothers.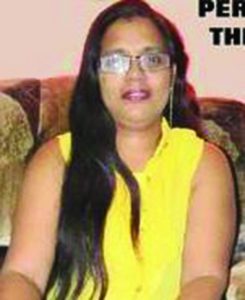 According to her, society tends to get taken up with organising awareness activities and forgets the most important aspect, which is to provide assistance.
She said, "From my perspective as well as the Caribbean Voice perspective is that there is a lot of talk, there is a lot of photo op, people doing workshops and walks and so forth. What happens after you do these walks? What happens after you do these outreaches? Do you do any follow-up? Is there any clinical psychologist that goes to help in that area you work in? What happens after then? How do you intend to help victims?"
Ahamad added that raising awareness is a meagre part when it comes to domestic abuse.
"When you tell a victim, leave your husband and this victim has five kids, she depends on the abuser, how would she cope? That is where her coping skills can lead her to become suicidal. She can go into depression," the Director explained.
Last week, a Domestic Violence walk was held in Kuru-Kururu on the Linden-Soesdyke Highway where the Citizenship Minister, Winston Felix suggested that oil revenues can be used to assist victims of domestic violence.
According to Ahamad, "That would be great but… they just campaigning here and I am being realistic. Guyana doesn't have mechanism in place to help battered women in that respect because if you put a home in Essequibo, the abuser can know there is a home in Essequibo, they can target it".
The Minister had noted that a part of the impending oil revenues should be used on a programme which will help victims of domestic violence, as many victims, especially women, are often forced to live under abusive circumstances because they are unable to fend for themselves.
"If it's (circumstances) really bad it means that these women are not working and they have three or four children to support. The question of how the removal of the breadwinner can be replaced so that the question of support does not get lost (and) that is one of the issues which I think over time we will have to overcome probably with oil and the revenue from oil we might be able to develop or put some money into social programs that will support women whose husbands have been either in prison or have been separated from the home and they have very little means of support," he said.
Only last year, Magistrate Sherdel Isaacs-Marcus said there was a grave need for the availability of more safe homes to protect domestic violence victims and survivors.
According to statistics from a study conducted by Red Thread which was released last year, 81 per cent of domestic violence cases were reported by women as against 17 per cent being reported by men.