Commuters and drivers, as well as pedestrians on Friday morning, had a hard time keeping their heads straight as they went about their business on Vlissengen Road, Georgetown, which had a carnival-like atmosphere as the Natural Resources Ministry launched its Mash band.
The Ministry braved the rains to launch its band which will see the participation of about 100 revellers.
Those who gathered to witness the launch were entertained by live performances of several talented artistes before the brightly coloured costumes were displayed by beautiful women dancing to tunes of Soca, Reggae and other Caribbean vibes.
This year's costumes were designed by Nelsion Nurse under the concept "promoting sustainability and development" as was pointed out by the event's host, Curtis "Casual" Armstrong.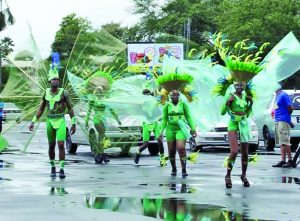 He explained, "This concept highlights Guyana's movement away from valuing of forests for simply their wood and trees and instead treats forests as part of our national patrimony. It is to be managed collectively. Forest cover approximately 87 per cent of Guyana's total surface area and the country's economic development and prosperity is, therefore, directly tied to the management and use of its forest and forested lands".
In this regard, the float happens to be a representation of Guyana's forest. The country has vast forest resources which cover more than three-quarters of its land mass. Furthermore, it contains over 1000 different tree varieties, the host added.
The various shades of green, blue, yellow and even black brought the rays of sunshine bursting through the clouds, as they too seemed to want a glimpse of this year's Natural Resources Ministry's Mash band.
The Ministry's band will join the several other Government agencies as well as private organisations to celebrate the 49th Mashramani parade.
The theme for this year's celebration is "Celebrate Mash 2019; With Victory in Mind – Rediscovering El Dorado".
This year's parade will take place on February 23, at the head of Carifesta Avenue and will trail along the Kitty Roundabout, turning onto Vlissengen Road heading to the D'Urban Park, where the celebrations will continue.
In an interview with the Department of Public Information (DPI), Director of Culture Tamika Boatswain said the Department is ready to host the celebrations through planned activities countrywide.
In order to facilitate this, close to $100 million will be utilised for the 49th Republic anniversary, the Director noted.