…as rice industry drowns in trouble
Former Agriculture Minister, Dr Leslie Ramsammy has called out the Government and the Guyana Rice Development Board (GRDB) for not responding to the paddy bug infestation which has already resulted in millions of dollars in losses for farmers in three different regions.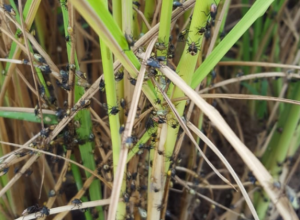 Ramsammy argued that the Government and GRDB's move to dismiss the challenges and problems rice farmers face while insisting rice is a Private Sector activity is "dangerous" and "repulsive" as rice farmers and millers invest more than $50 billion annually into the economy.
He added that as trouble escalates in the rice industry and as farmers fight to stay afloat and struggle to make ends meet, the GRDB, the Ministry of Agriculture and the caretaker Ministers of Agriculture are lost in "la la" land. "The President is comfortably ensconced in State House, the PM avoids farmers like a plague, the other Ministers, including the AFC-designated PM candidate, behave like all is dandy with rice," Ramsammy noted.
The former Minister said he knows for a fact that the paddy bug infestation has led to the loss of almost 20 per cent of the rice crop in Region Six (East Berbice-Corentyne) and even worse losses in Region Two (Pomeroon-Supenaam). Over in Region Five (Mahaica Berbice), the problem is equally devastating to farmers, he added.
For Regions Two and Six alone, some 500,000 bags of paddy were lost, which means $1.4 billion in revenue for each region.
Meanwhile, in Region Five, farmers reportedly lost more than 600,000 bags of paddy due to the paddy bugs and red rice.
Ramsammy was keen to note that the paddy bug is not the only issue affecting farmers as he made mention specifically of floods and dry conditions, accompanied by clogged canals and dysfunctional pumps among others.
These issues, according to him, are not being addressed by the National Drainage and Irrigation Authority (NDIA) nor the Agriculture Ministry.
He predicted that overall, Guyanese rice farmers will lose about $9 billion this year, having already lost more than $8 billion in 2018.
Ramsammy pointed out in his missive that most of these farmers are poor and the responsible agency, GRDB, is missing in action as well as the "people's Government".
In fact, he contended that life is becoming more difficult for rice farmers as land lease rates were increased. "In the MMA, lease rates have increased from $1000 per acre to $7000 per acre. This unconscionable increase is even steeper in Black Bush Polder. At the same time, Drainage and Irrigation fees have increased across the country. Supplies such as pesticides have increased in cost and subsidies for equipment in the rice industry have been removed. When farmers protest the unconscionable rate increases, the Minister of Agriculture rebuked them for objecting to a "measly one beer per day" increase," the former Minister stated.
Further, he explained, "In 2014, Guyana produced more than 637,000 tons of rice. In the first crop of 2015, production reached almost 400,000 tons, far ahead of the pace to meet the 2015 target of 700,000 tons. But Guyana failed to reach the 2015 target because of a significant drop in production for the second 2015 crop, reaching only 697,000 tons".
Ramsammy said the country failed again in 2016, 2017 and 2018 to meet its 700,000 target, which is also likely for this year.
Yet, he said, the Government is failing on their promises to conduct its functions.
Aerial spraying of bugs
After being protested last week, GRDB announced that it will commence aerial spraying for paddy bugs in Regions Three, Four, Five and Six soon.
Despite experiencing heavy losses due to the paddy bugs' infestation in the last two crops, no aerial spraying will be conducted in Region Two.
Despite the advice of an international expert against this method, the farmers continued their protest.
President of Guyana Rice Producers Association (RPA) Leekha Rambrich told this publication that aerial spraying to combat the dreaded paddy bugs will not be carried out in Region Two because most of the cultivations are within close proximity to residential areas.
The Environmental Protection Agency (EPA) had advised the GRDB against conducting aerial spraying with toxic chemicals in that region.
The RPA President told this publication that some rice farmers are in the habit of purchasing chemicals from unrecognised importers and have been experiencing little or no results. He is advising that they purchase from the established dealers.