In under a week's time, the Guyana Sport Shooting Foundation (GSSF) has once again identified a critical area in which they can lend support to the Guyana Police Force (GPF). The GSSF, in keeping with international sport shooting standards has adopted the policy of the safe unloading of firearms for all shooting events. "Compliance to safety while handling firearms is always paramount," reiterated President of the GSSF, Ryan McKinnon.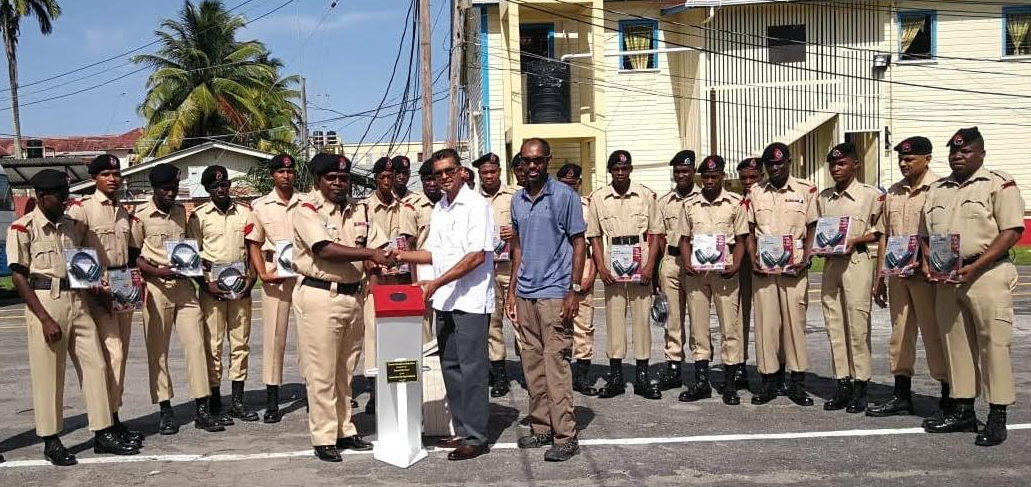 The Foundation, in further strengthening its partnership with the Police Force, made a donation of a specially designed and customised Firearm Unloading Station to the Force. The presentation of this station was made at Police Headquarters, Eve Leary, Georgetown to the OC, TSU, Guy Nurse.
Unloading Stations are designed to provide safe and easy unloading of service weapons catching ejected rounds and safely containing accidental discharges to the rated ballistic level.
The cone opening catches the round ejected from semi-automatic handguns. The wide opening of the cone allows the entire handgun to be placed in the unloading station so that the ejected round is caught and does not fall to the floor. If accidental discharge occurs the bullet will hit the cone and be stopped by the ballistic material.
The Unloading Stations are designed to safely contain accidental discharges of service weapons and rounds. Operation is simple – just place the barrel of the weapon in the unit's sleeve and press the trigger.
If there is a bullet in the chamber, it will enter the containment chamber without danger of ricochet and harm to others in the area.
The Foundation looks forward to continued collaboration with the Guyana Police Force and commits to giving assistance, building capacity and aiding in the general development of the Force and its ranks where possible.
The GSSF wishes to thank all its members, partners, collaborators and supporters for the valuable contributions made towards the development of the organisation and by extension the sport of shooting in Guyana. The Board of Directors wishes to express its continued commitment and dedication to the development of the Foundation while working closely with local regulatory departments and authorities.