Guyana Tourism Authority (GTA) has announced plans to improve sports tourism in 2020. The tourism authority said it is working to raise the country's profile as a prime destination for sporting activities.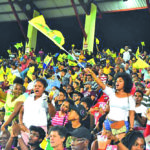 Director General of the Department of Tourism, Donald Sinclair listed the authority's 2020 goals at a round table discussion held at Cara Lodge on Tuesday.
According to the Director, his Department is focused on improving sports tourism for 2020 by helping companies commercialise themselves more.
"What we want to do is strengthen capacities around the sports tourism organisations to manage their sports event, to plan their tourism sports event better, and of course to market better. So definitely boosting the capacity of marketing and sports tourism events…", he said.
Meanwhile, the Department of Tourism plans to increase its collaborations with other countries.
For example, the Director General mentioned the signing of the Guyana-Suriname tourism accord whereby the two countries committed to hosting tourism expos to raise their profile.
Additionally, the Director General revealed that the GTA is working to strengthen links with the diaspora, including those in the United Kingdom, to further develop the country's tourism.
Nevertheless, in light of the improvement of sports tourism, Guyana, through the Caribbean Premier League (CPL) has benefited significantly from sports tourism since the beginning of the tournament.
Just recently CPL announced that the 2019 event, which took place between September 4 and October 12 last year, created a total economic impact of US$29,514,926 in the country, and a 15 per cent increase on the fantastic results that were achieved during the 2018 event.
In addition to the economic impact, the tournament filled 7664 hotel rooms in Guyana, and saw an increase in overall arrivals into the country during the Hero CPL games, creating 608 jobs during that period.