Recently, the Guyana Tourism Authority (GTA) announced that the tourism visitation to Guyana increased by 9.75 per cent in 2019 when compared to the figures of 2018.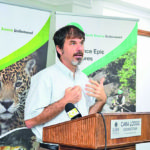 Addressing members of the media at Cara Lodge, Georgetown, officials of GTA said that the number of visitations in 2019 outclassed the 2018 record.
Director of the Guyana Tourism Association (GTA), Brian Mullis said that the six tourism awards that Guyana recently received have placed Guyana on the map. He said that the promotional investments in Europe and North America initiated $200 million (US$1 million) in exposure.
Mullis further announced that between November and December 2019, Guyana has been receiving large media coverage in the volume of prominent media recognition in high media outlets such as the National Geographic, The Telegraph, Family Vacation Circles, Travel and Leisure, Conde Nast, Wall Street Journal, New York Post and Wanderlust Magazine.
"Guyana has also been featured much more prominently in our domestic media, we've noticed more stories, we've been putting out more press releases we've been sharing more information with the press and we can't thank you enough for helping to raise awareness of tourism in Guyana," he said.
Nevertheless, for 2020, GTA has outlined an action plan for Guyana's tourism industry. They plan on implementing community-led tourism frameworks in four Indigenous communities, while work has commenced in six others.
According to Mullis, there are 10 new tourism products under development and will be launched in 2020 and four will be launched in the first quarter of the year.
Meanwhile, the authority said that they are currently working with key stakeholders and are, however, focused on moving to a market-driven approach to tourism development based on visit readiness, market access, and strategic visitor flow.
Donald Sinclair, Director-General of the Department of Tourism in his remarks outlined his department's achievements in 2019. He said that there was the initiation of the Three Guianas collaboration and the signing of the Guyana-Suriname tourism accord, and the three territories have also committed to hosting tourism expos to raise their profile as a geo destination.
He further stated that with the First Agri Tourism Expo and the establishment of regional tourism committees, the Rum Route and other initiatives, the department is elected to boost local tourism.