Local content goes further than just Government implementing policies as guidelines for employment. This is according to Chairman of Banks DIH, Clifford Reis, who stated that most supermarkets in Guyana contain 80 per cent imported products.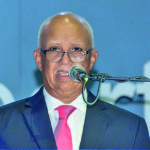 He said too many importers are importing goods as against those locally manufactured.
"There is a strong belief in Guyana, that everything foreign is better."
The business tycoon added that his company produces a wide range of products that have won many international awards for their quality.
The accolades include the Cup of Excellence from Coca-Cola products and the company is ranked second place in the Americas for its quality and packaging of Guinness Stout.
In this regard, Reis said whenever someone buys a local product, he or she is supporting the employment of a Guyanese, hence, supporting local content.
"Every time you purchase from our company, you are keeping someone employed and not only that, there are ten thousand persons who handle Banks products as distributors. Multiply this by a wife and two kids – it would be forty thousand persons. Every time you support those products you are keeping those people employed and those are the people that will come to your shop and purchase what you are selling. So, when he loses his job you will be out of business too. That is local content," Reis said.
Local content, he added, is to ensure that every dollar that is made in Guyana stays in Guyana; it does not go to another country. So, it can build our roads and our schools.
"Local content is not only about oil; it is about keeping our people employed by using our local products."
This, Reis related, does not mean that manufacturers should take advantage of persons but should produce quality products at all times.
On Tuesday Director of the Energy Department, Dr Mark Bynoe, speaking on Guyana's Local Content Policy which is still to be made public, said the policy is what he calls a fit-for-purpose policy as it offers a balanced alignment between the Government of Guyana's policy goals while maintaining consistency with Guyana's international and regional trade and economic cooperation obligations.