‒ player set to attend 1-month training camp in Dominican Republic
By Akeem Greene
Despite his being prevented by administrative issues from getting to wield his racket at the Latin America Continental Championships which were held in the Dominican Republic last month, the Guyana Table Tennis Association (GTTA) is keen on ensuring that Miguel Wong stays on track in his bid to qualify for the 2018 Youth Olympics Games in Buenos Aries, Argentina.
Speaking to Guyana Times Sport on Monday, GTTA President, Godfrey Munroe, explained that Wong's prospects for qualifying for the Games are still intact, since the Continental Championships were not the only route.
"This is not the end of his prospects for qualification to the Youth Games; there are different pathways. (It can be done) through a world ranking, (wherein) the top 10 to 15s juniors get automatic acceptance; but he (perhaps) won't qualify there. There was the Continental Cup, or other junior circuit events; but we're trying to (get him to qualify by) using the 'universal allocated' position".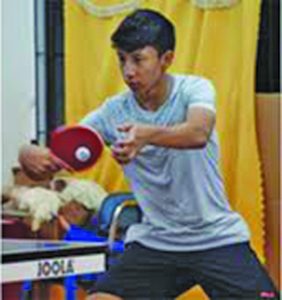 He added: "It is a method (wherein) countries (that) have limited amounts of athletes attending the Games (have) been given the chance (to qualify) as a 'wild card.' The policy of the International Federation is that you have to make an attempt at qualifying".
In explaining why Wong was not able to participate in activities in the Dominican Republic, Munroe said, "We sent up his registration to the Dominican Republic, as the host for the continental trials, and they were supposed to send it to the ITTF [International Table Tennis Federation] but there was some mix-up. He also reached late (on) the morning of the trials, so he was not include in (the) draws".
Munroe, however, said: "To compensate for that, the Dominican Republic have indicated that they would stand his training expenses for a training one-month camp".
The GTTA President is hopeful that the camp can be held from June 13 to July 13. Wong would have another shot at qualification when he participates in the South American Youth Games, to be held in Chile from September 27 to October 8.
In a recent GTTA release, it was stated: "Miguel is a talented, disciplined athlete; one whom the association feels has a long term future in the sport, and the potential to reach higher levels if given the correct nurturing, support and exposure. His exposure to this event will truly augment his development (and) his international ranking; which would assist Guyana's chances of doing well in future engagements. And so this would represent a long-term investment in one of our brighter prospects for the future."
Wong is attempting to follow in the footsteps of Adielle Roushevel, who attended the Youth Olympic Games in Singapore (2010); and Chelsea Edghill, who did likewise in China (2014).