…as major oil companies running out of proven oil reserves
Guyana, with oil giant ExxonMobil as the operator, accounted for 70 per cent of proven new oil reserves belonging to major oil companies over the last five years, even as the world's largest oil exploration companies run out of proven oil reserves.
According to an analysis from Norwegian oil and gas consultant Rystad Energy, new oil reserves among Big Oil which comprises companies such as ExxonMobil, BP, Shell, Chevron, Total and Eni, have fallen. However, Exxon has come out ahead of its peers, thanks to Guyana.
"New discovered volumes – a measurement of a company's exploration performance – illustrates the daunting challenge faced by oil majors to maintain their reserves base and supply existing customers," Rystad said.
"Over the past five years, the six majors have replaced only 45 per cent of their production through reserves from new discoveries. ExxonMobil fared better than its peers, adding more than 70 per cent of the produced reserves thanks to 9 billion (Barrels of Oil) of discovered volumes in the offshore Stabroek Block in Guyana."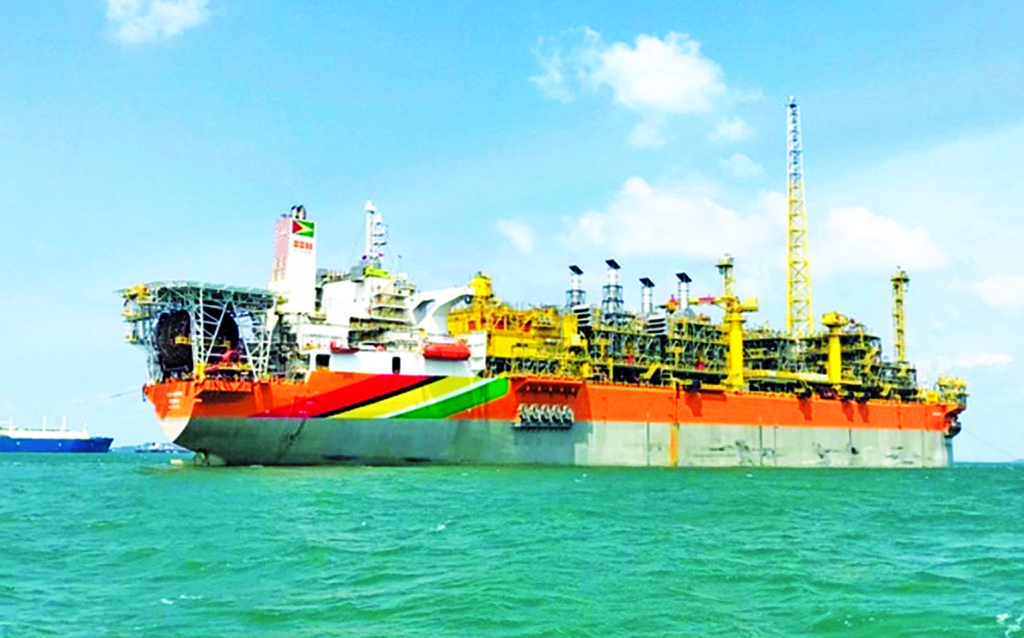 Nor is Exxon the only one. Rystad noted that Total also had some amount of success last year in the Guyana-Suriname basin. This is a reference to the oil found in the Maka Central-1, Kwaskwasi-1 and Sapakara West-1 wells offshore Suriname in Block 58 last year.
"Eni did well thanks to success in Africa. Chevron and Shell, on the other hand, have struggled to register new discovered volumes. Chevron managed to replace only 15 per cent of its produced volumes from 2016 through 2020, while Shell replaced 27 per cent," Rystad added.
ExxonMobil affiliate Esso Exploration and Production Guyana Limited (EEPGL) has so far made 19 oil discoveries offshore Guyana, with its latest discovery being made at the Uaru-2 well in the Stabroek Block last month.
Oil was found in the first Uaru well in January 2020, making it Exxon's 16th discovery in Guyana's waters. ExxonMobil has said it anticipates at least six projects offshore Guyana will be online by 2027. It is expected to submit a Field Development Plan (FDP) for one such project, Yellowtail, for governmental approval later this year.
The Stabroek Block is 6.6 million acres (26,800 square kilometres). EEPGL is operator and holds 45 per cent interest in the Stabroek Block. Hess Guyana Exploration Ltd holds 30 per cent interest and CNOOC Petroleum Guyana Limited, a wholly-owned subsidiary of CNOOC Limited, holds 25 per cent interest.
Already, ExxonMobil has established an ambitious oil exploration plan for 2021 offshore Guyana. Over the past few months Exxon, the only company to have found and started producing oil in local waters, has been drilling simultaneous deepwater wells in both the Stabroek and Canje Blocks.
In March 2021, ExxonMobil secured a sixth drillship, the Noble Sam Croft, for exploration and evaluation drilling activities offshore Guyana. A fourth project, Yellowtail, has been identified within the block with an anticipated start-up in late 2025 pending Government approvals and project sanctioning. This project will develop the Yellowtail and Redtail fields, which are located about 19 miles (30 kilometres) southeast of the Liza developments.
With the Liza Phase 2 and Payara developments on track for their scheduled completion and the Liza Phase 1 development averaging 120,000 barrels of oil per day (bpd), Guyana's oil production is likely to exceed 500,000 bpd by 2024.