Engagements between Governor of Roraima, Antonio Denarium and Minister within the Public Works Ministry, Deodat Indar have renewed eagerness on the part of both countries to deepen trade relations with the realised Linden to Mabura road project.
Indar on Tuesday received a courtesy visit from the Governor and members of his delegation.
During their engagement, they discussed areas of cooperation, particularly on the $192M Linden-Mabura Road project.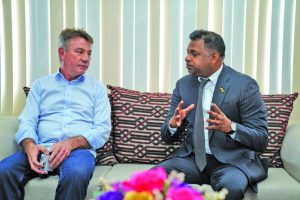 Indar provided Governor Denarium with an update on the project and acknowledged the important role Brazilian contractor Construtora Queiroz Galvao S.A. plays in the development project.
"Both Minister Indar and Governor Denarium highlighted the importance of the completion of the thoroughfare to broadening trade between Guyana and Brazil," a statement from the Ministry outlined.
The Minister noted that 48 concrete bridges are being built between Mabura and Lethem according to American Association of State Highway and Transportation Officials (AASHTO) standards to improve the commute for passengers and commercial traffic.
Indar and Governor Denarium also discussed cooperation in the areas of air transport, cross-border trade, and technology transfer.
The Linden-Lethem Road is being upgraded to an all-weather road, with the contractor being required to produce an asphaltic surface capable of withstanding the heavily laden lorries which currently use the thoroughfare.
The first phase of the project focuses on a two-lane highway being constructed from sand and dirt to an asphaltic concrete surface. The road will be approximately 121 kilometres long and 7.2 metres wide. The project is expected to last for three years. With tangible works taking place, residents have started focusing on the new possibilities for business opportunities.
The project is being funded by the Caribbean Development Bank (CDB) via a US$112 million loan, a grant to the tune of £50 million (US$66 million) from the United Kingdom under the Caribbean Infrastructure Partnership Fund (CIPF), and an input of US$12 million from the Guyana Government.
With a 7.2-metre-wide carriageway, the Linden-to-Mabura Road will feature a cycle and pedestrian lane measuring 2 metres wide, along with 10 bus stops outfitted with ramps for persons with disabilities. Additionally, a number of bridges and culverts along the way will be replaced, and some 123 lights will be installed. (G12)