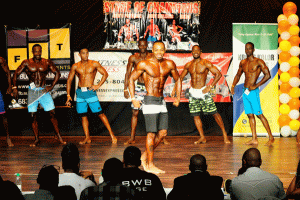 Bodybuilders from all around the Caribbean Region are set to converge on the Ramada Princess Hotel, Providence, East Bank Demerara (EBD) in July for the much-anticipated "Stage of Champions" (SOC).
The "Stage of Champions" team is a local conglomerate with the keen intention of bringing regional and international bodybuilding and fitness athletes to Guyana. SOC, for its four previous Championships, attracted contenders from several countries to compete in bodybuilding and fitness categories such as bodybuilding, bikini, and men's physique.
The team has already been granted permission from the local Guyana Bodybuilding and Fitness Federation (GBBFF) for the hosting of the event on July 9, 2023.
So far, about eight countries, inclusive of Guyana, have registered for the Championship and will stage athletes in the key bodybuilding and fitness categories: bodybuilding, miss bikini and men's physique.
Guyana is expected to be represented by several elite athletes, including reigning Mr Guyana Bodybuilding Champion Darious Ramsammy, reigning Mr Guyana Physique Champion Emmerson Campbell, and Central America and Caribbean Games (CAC ) gold medallist Julio Sinclair.
Stage of Champions has brought on board several heavyweight sponsors such as NEW GPC Inc, Camille's Academy, Masterpiece Rentals, Prem's Electrical, West Indies Sport Complex, E Master Inc, Unity Gym and Unity Cabs, Frontline Restaurant, Ele's Hardware and Trading and V Fitness, Lyft Gym, Western Scientific, IPA Health Care, Innovative Electronics, Crown Mining Supplies, Guyana Outdoors Sportsman. And several other sponsors have signalled their intentions of coming on board financially.
The sponsorship received will mostly go towards the cash prizes that the successful athletes will receive on the championship night.