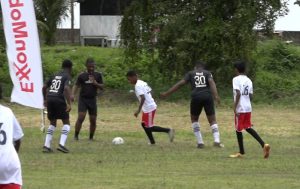 Waramuri Primary Top were the shining stars on Saturday when both the male and female teams impressed on the opening day of the ExxonMobil Boys' and Girls' Under-14 football tournaments at the National Insurance Scheme (NIS) Ground, Carifesta Avenue.
In the girls' competition, Waramuri, out of Region One (Barima-Waini), sealed a 13-0 victory over Vergenoegen Secondary.
Waramuri's Allia Henry opened the scoring in only the first minute of the game and added another to her personal tally in the 39th minute. It was, however, a six-goal haul from Mechelle Williams (6th, 11th, 13th, 18th, 30th, 38th) that propelled the Region One team to their large tally.
Memosyne Peters (4th, 9th) and Jada La Cruz (34th, 40th) netted doubles and Brenit Marks added another in the 37th minute for Waramuri's resounding victory.
For the boys' team, a 7-0 victory against Institute of Academic Excellence was on the cards. Shakeel Marks led the way with a hat-trick in the 9th, 12th and 29th minutes, while Dwayne Boya found the back of the net twice in the 18th and 30th. Solitary goals came from Kwall Harris (47th) and Ricardo Lewis (16th).
Meanwhile, in the girls' competition, Tucville Secondary also had a massive 11-0 win over Cummings Lodge Secondary. A helmet trick from Cearra Glasgow (2nd, 7th, 12th, 17th), while Kaira Boyle netted three in the 22nd, 32nd and 37th to lead the charge for their team. Also contributing to the tally were Akiesha Isaacs (10th); Shania Callendar (26th, 29th) and Shania Waldon (36th).
It was a collective effort from Westminster Secondary as they defeated West Ruimveldt Secondary 4-0. A brace came off the boots of Stacy Jones in the 9th and 11th minutes, while Reinsean Bowen (30th) and Odencia Bishop (39th) added one apiece.
A single goal from Jamacy Reid handed East Ruimveldt Secondary a victory in the fifth minute of their encounter with New Amsterdam Secondary.
The scoreline was the same when Bartica Secondary opposed Marian Academy. Bartica's Zalina Jones was the lone goal-scorer in the 32nd minute.
A double from Tamara Chanie (31st, 35th) resulted in a 2-0 victory for Institute of Academic Excellence over Mackenzie High.
In other results of the day, President's College and New Central High played to a stalemate.
Over in the boys' competition, East Ruimveldt Secondary had the other electric performance of the day, besting Hope Secondary 8-0.
The team effort saw goals coming from Jayden Abrahams (9th, 11th); Jaheim Herbert (4th); Dennis Fowler (13th); Gary Primo (18th); Quason Maynard (30th); Torrel Bobsemple (34th) and Jeremiah Lowe (36th).
Earlier in the day, Annandale Secondary's boys narrowly got past Patentia Secondary 2-1. A strike from Annandale's Sherwin (13th) and an own goal accounted for their victory, while Patentia's consolation goal came from Kemraj Hemmauth (7th).
It was by the same 2-1 score that defending champions Charlestown Secondary got past Bush Lot Secondary. Ronaldo Roberts netted first for Bush Lot in the sixth minute, and one each from Dilshawn Alleyne (12th) and Adriel Hamilton (52nd) got the defending champions the win.
New Central High defeated St Cuthbert's Secondary 4-1, in the following game. Two early goals from Peter Khan in the second and fourth minutes put New Central in a comfortable position, while Trevor Gordo added another two in the 13th and 14th minutes.
A double from Michael Singh in the 4th and 37th minutes ensured Westminster Secondary would ease past Charity Secondary in a 2-0 affair.
A single-goal thriller was witnessed when Fort Wellington opposed West Ruimveldt Secondary. Eventually, it was Reiven Vanooten's 7th-minute goal that gave Fort Wellington the win.
Goals from Riley Tracey (22nd, 34th) and Joshua Joseph (36th) accounted for Bartica Secondary's three unanswered goals when they came up against New Amsterdam Secondary.
Goals from Nyhl George (41st) and Kristian Viapree (44th) spurred Marian Academy to a 2-1 victory over St Stanislaus College. Clint Bynoe (30th) netted the former's consolation goal.
Meanwhile, Vergenoegen Secondary overcame Carmel Secondary 3-0. Goals came from Elvis Grant (10th) and Devon Williams (23rd, 28th).
A Darius Chester strike in the sixth minute gave Chase's Academic Foundation just what they needed to pull off a 1-0 win over Dora Secondary.
Another close game saw Dolphin Secondary getting the better of Queenstown Secondary in a 2-1 affair. Kellon Alleyne (20th) and Kevin Bunton (24th) found the back of the net for Dolphin while Damar Simpson (30th) was Queenstown's lone goal scorer.
In other results, Mackenzie High and Christ Church held each other to a 2-2 draw. Kemmany Mckenzie (7th) and Roscoe Anderson (9th) scored for Mackenzie High while Jayden Liverpool (28th) did the same for Christ Church. Their other goal was via an own goal.
Goals from Malachi Bailey (23rd) and Daniel Alexander (9th) resulted in a 1-1 draw between Cummings Lodge and President's College respectively. Another 1-1 draw was the outcome of an encounter between North Ruimveldt and Ann's Grove Secondary. Luke Arokium and Selwyn Fraser were the respective goal-scorers.