…we will be discussing options with Government – Russell
By Akeem Greene
Guyana's chances of hosting this year's Hero Caribbean Premier League finals still have a strong lifeline should the government make a bid.
Despite an article appearing in a Trinidad and Tobago media outlet which stated "T&T will be hosting the finals of the 2018 Digicel Caribbean Premier League (CPL. There will be no bidding process for the championship weekend, as this country has already locked that in since last year. T&T hosted a successful CPL T20 2017 finals at the Lara Stadium in Tarouba and during the negotiations one of the conditions was that they got the rights to host the finals this year as well".
However, CPL Chief Operating Officer (COO) Pete Russell in an exclusive interview with Guyana Times Sport on Wednesday rubbished those claims and explained that the finals is still open for bids.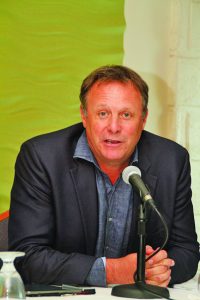 "We are still in discussions. There is an article I saw in Trinidad which suggested the finals were in Trinidad this year but those discussions have not been concluded.
Should the government be successful at the bidding process, it opens the door for possibly eight matches this year since the COO had already said the country will have five matches (three at the beginning and two in the latter stages).
"We are very lucky to have a good relationship with the Guyanese government so we will be discussing options with them and let's see. We have always said it would be great to host it here whether it is just the play-off game or the finals, at least a series of matches that are meaningful at the end of the tournament".
On a financial front, the league continues to grow in Guyana with the organisers recently revealing that the home of the Amazon Warriors reaped in 2017 some US$14 million or 2.8 Billion Guyana dollars, figures which are expected to continue grow.
Previous player-drafts were held in the Caribbean, this year may see the March 1 draft taking place in London. While Russell did not fully confirm London as the final destination he was upbeat, stating that the London time is prime for most audiences especially in Australia, New Zealand and in India and the other parts of Asia where there are likely to have a lot of eyeballs.
This year's CPL is set to bowl off early in August and will run up until September, the same window period that was used in 2017.