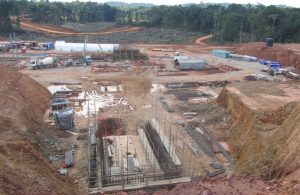 …union says workers want representation
…company denies unlawfully hindering unionisation
Matters have come to a head at Aurora Goldmines (AGM), owned by Guyana Goldfields, where reports have emerged of some workers going on strike over grievances related to their unionisation and severance payments.
According to a source, workers at Aurora Goldmines were even threatened with having their Wi-Fi – vital to ensure they can communicate from their Cuyuni/Mazaruni location to the coast— cut off.
When contacted by this newspaper, Guyana Goldfields Human Resource Manager Peter Benny denied that the company turned off the Wi-Fi to isolate workers, claiming that there are times when technical difficulties may cause them to prioritise business links over worker's personal communication links.
The human resource manager also confirmed that while there was a strike, it did not spread through the entire Aurora Goldmines operations but rather, only a part. Asked if the strike had to do with STRACON— which signed an open-pit agreement with Goldfields last year— Benny insisted that the contractor was performing.
"The STRACON contractors are performing their duties," Benny said when contacted on Tuesday morning. "There's been a crew from the AGM who had a stand down to discuss issues that were affecting them".
According to Benny, workers have been known to call meetings among themselves to discuss grievances. Asked what issues the company has with paying severance, Benny denied that there were any.
"We pay severance to all employees who are severed. All employees. There's never a problem paying severance. Persons laid off are paid severance and redundancy, in keeping with the law," Benny said.
In a similar fashion, Benny denied that the company is deliberately hindering the process for its workers. But he noted that while the National Mining Workers Union (NMWU) is only seeking to represent workers at Buckhall, Benny stressed that the union needs to get the required percentage of support from workers drawn from its entire operation.
"You can't try to recognise a small scope of workers. The law requires that you seek to have the membership, 41 per cent of the bargaining unit. Not a part of the bargaining unit," Benny continued.
Benny was asked why the union's President, Mining Advocate Sherwyn Downer, was not being allowed to meet workers and seek their support. Benny admitted that while the company was not averse to Downer meeting workers, it has to be off-site. He advised that an off-site meeting with works be sought by Downer.
Workers
This publication spoke to several workers attached to the Aurora site where a picture that differed from the Human Resource Manager was painted. According to one worker who works with the blasting (explosives) crew, workers have several grievances against the company.
"We have a situation where there is a merger. They told us in April that we're merging. April gone, May gone, they put a deadline to July 1 that the merger would happen and we would be paid off severance. Now when the 1st reach, we call the manager and the manager said he wasn't aware of that and we have to go back to work," the worker said.
"We said we're not going back to work, this has to be solved. We told them the situation is very tense. This is very disrespectful to us. The manager is saying he doesn't know this, he doesn't know that… now, there are about 300 workers on the ground stand down," the employee, who spoke under the condition of anonymity, said. He added that the mills, part of the AGM operation, also stood down with them.
Union
Meanwhile, President of the NWMU, Sherwyn Downer, confirmed that he is in receipt of the workers' complaints and has been apprised of the situation at the mining camp. According to Downer, he stands ready to work to ensure a solution and noted that he will be making contact with the company and the Labour Department to facilitate a trip. Later, he noted that when he contacted the Social Protection Ministry, he was told that workers wanted to meet with the ministry and not the union, at odds with media reports.
"NMWU is concerned for the welfare and safety of Guyanese workers at Guyana Goldfield….and urges the Guyana Government to intervene on behalf of Goldfield Inc. employee in the absence of a union and restore or raise the bar of confidence in the Department of Labour and Social Protection Ministry," Downer subsequently said in a statement.