…explores ways of deepening bilateral cooperation
Guyana's Foreign Secretary, Robert Persaud, on Tuesday met with Qatar's Minister of State for Foreign Affairs, Sultan bin Saad Al Muraikhi, for discussions aimed at strengthening Guyana's bilateral cooperation with that Arab country.
The meeting occurred on the sidelines of the currently ongoing Qatar Economic Forum, which brings together industry leaders from around the world. According to a statement from the Qatar Ministry of Foreign Affairs, bilateral cooperation was discussed between the two countries.
This comes just days after Guyana opened a new Embassy in Doha, Qatar, with President Dr. Irfaan Ali announcing that this would mark the start of enhanced bilateral cooperation between the two countries.
President Ali also held bilateral discussions with the Amir of Qatar, His Highness Sheikh Tamim bin Hamad Al Thani, and members of his Cabinet. He has also met with the Chairman of Qatar Tourism, the Group CEO of Qatar Airways, Akbar Al Baker. The Head of State and the airline's CEO discussed enhancing Guyana's reach and the country's tourism product.
The Guyanese Head of State further held discussions with Qatari Minister of Environment and Climate Change, Faleh bin Nasser bin Ahmed bin Ali Al Thani. During that engagement, Guyana's global leadership in climate change was highlighted, and the potential role Qatar can play was discussed.
Ali also held talks with the Qatar Chamber of Commerce, discussions with whom were focused on investment opportunities in Guyana. The Chamber was represented by its First Vice Chairman, Mohamed Bin Ahmed Bin Twar Al-Kuwari.
Meetings were also held in Doha with Qatar's Minister of Commerce and Industry, Sheikh Mohammed bin Hamad bin Qassim Al Abdullah Al Thani; Minister of State for Energy Affairs, Engineer Saad bin Sherida Al Kaabi; the Prime Minister and Minister of Foreign Affairs, Mohammed bin Abdulrahman Al Thani; and Minister of Finance, Ali bin Ahmed Al Kuwari.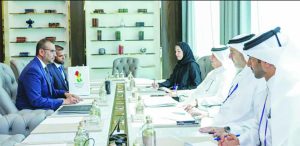 Qatar and Guyana established diplomatic relations in 1996. Qatar is among several Arab nations that have expressed serious interest in investing in various sectors in Guyana. Last October, Al Kaabi had led a delegation to Guyana to explore various opportunities here. During Al-Kaabi's visit, discussions between the two countries centred on potential collaboration in the areas of energy, food, infrastructure, and aviation.
In April 2022, President Ali and his team also met with a delegation from the Qatari Investment Mission, to advance discussions on investment opportunities in the country. The Qatari Investment Mission representatives were the Group Chairman of Power International Holding, Moutaz Al Khayyat; the Group Chief Venture Officer of Power International Holding, Ali Kazma; and the company's Chief Business Development Officer, Mazen Alsbeti.
Also, in November 2021, President Ali had met with senior officials of the Qatar Investment Authority (QIA) – the Sovereign Wealth Fund of the Middle Eastern State. The visiting team comprised two QIA Executives, Abdulhadi F A Al-Hajri, and Dany Farah Nakhoul. Their visit was a follow-up to talks started by President Ali and the Amir of Qatar, Sheikh Tamim bin Hamad Al Thani.
And in February this year, it was announced that Guyana would be receiving help with the oil and gas sector from Qatar. Specifically, Qatar would be helping Guyana create a gas utilization and monetization plan ahead of the commissioning of the gas-to-shore project. (G3)