…discusses trade opportunities, oil & gas assistance
The visiting Ghanaian delegation of Private Sector representatives on Tuesday held discussions with members of the Guyana Private Sector Commission (PSC) at the Arthur Chung Conference Center (ACCC), and opportunities for trade were among the topics discussed. There was even interest shown by the Ghanaians in tendering for the oil blocks.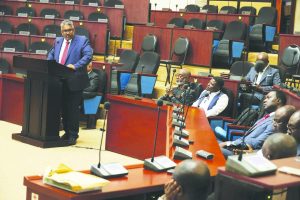 The Guyana PSC delegation was headed by its Chairman Komal Singh, while the Ghanian delegation was led by Gabby Otchere-Darko, Chairman of the Ghana Chamber of Commerce in Guyana, and included President of the Ghana Chamber of Commerce in Ghana, Clement Osei Amoako, and Director of the Ghana Chamber of Commerce in Guyana, Loveland White, along with other Private Sector officials.
According to a statement from the PSC, the discussions centred around the extensive opportunities present in Guyana, and the potential for trade. It was also acknowledged that Ghana, which is an oil-producing country with the potential of over 170,000 barrels of oil per day, could offer valuable expertise and advice to support Guyana in the oil and gas sector.
In a subsequent interview with this publication, Singh expressed optimism at how the discussions went, the business executive being encouraged by the interest shown by Ghana in partnering with locals.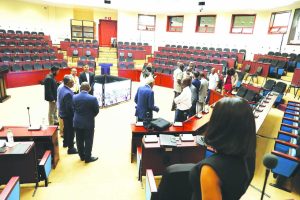 "There were companies from Ghana who showed quite a bit of interest in Guyana in terms of investment. There was one company who was actually looking to see if they could tender on the oil blocks. There was another group who dealt with waste management, waste water, construction. So, it's a wide range, and they're looking at the opportunities in Guyana and how they can actually benefit and create some business partners locally…So they have rooted interest in creating partnership and bringing some of the expertise and best practices in Ghana to Guyana," Singh explained.
A few days ago, the Government of Ghana commissioned the first Ghanaian Chamber of Commerce in Guyana. The organization will allow the two countries to connect businesses and foster investment which would drive further economic growth locally. Speaking at the commissioning ceremony, Public Works Minister Juan Edghill had lauded the developing partnerships between the two countries.
Minister Edghill, who is also responsible for the aviation sector, revealed that the two countries signed an Air Services Agreement, and he highlighted that it is now the Private Sector's responsibility to operationalize same.
Meanwhile, Ghana's Minister of Trade and Industry, Kobina Hammond, has highlighted the need for trade between the two countries. According to Hammond, "This is commerce, this is trade. We are talking about industrialization, we are talking about [the] development of our respective countries, but you cannot produce, you cannot industrialize, and keep all of the products that are produced in your country, there has to be some sort of trading relationships between countries.
"The goods have to be sent to other countries, that's the essence of trading, that's the essence of commerce, and it is important that you get an established base where the two countries, their entrepreneurs, the traders, the businessmen within the countries can concentrate some attention," Hammond explained.
In 2019, Guyana and Ghana signed a two-year Memorandum of Understanding for trading relations and information sharing between the two states. Back in December 2021, Ghanian Vice President Dr Mahamudu Bawumia visited Guyana, during which several bilateral cooperation agreements were signed to further improve relations between the two countries.
During that visit, Dr Bawumia and delegation engaged in high-level bilateral discussions at both the Government and Private Sector levels, including engagements with President Irfaan Ali, Prime Minister Mark Phillips, Vice President Bharrat Jagdeo, and other Ministers of Government.
Vice President Bawumia also met with members of the Ghanaian diaspora, and paid a visit to the University of Guyana. Vice President Bawumia's visit follows on the heels of the three-day visit VP Jagdeo paid to Ghana in October that year, where he held talks with his Ghanian counterpart. Following those discussions, he had announced that Ghanian experts would be reviewing Guyana's draft local content legislation.
During Jagdeo's meeting with the Ghanian Vice President, they had also spoken about the initiatives that Ghana implemented to further its industrial agenda and develop its non-oil economy. (G3)