Elite League champions Fruta Conquerors FC are again slated to participate in the Caribbean Club Shield next month, and the Guyana Lottery Company (GLC) has eased some of their worries as they continue their preparations.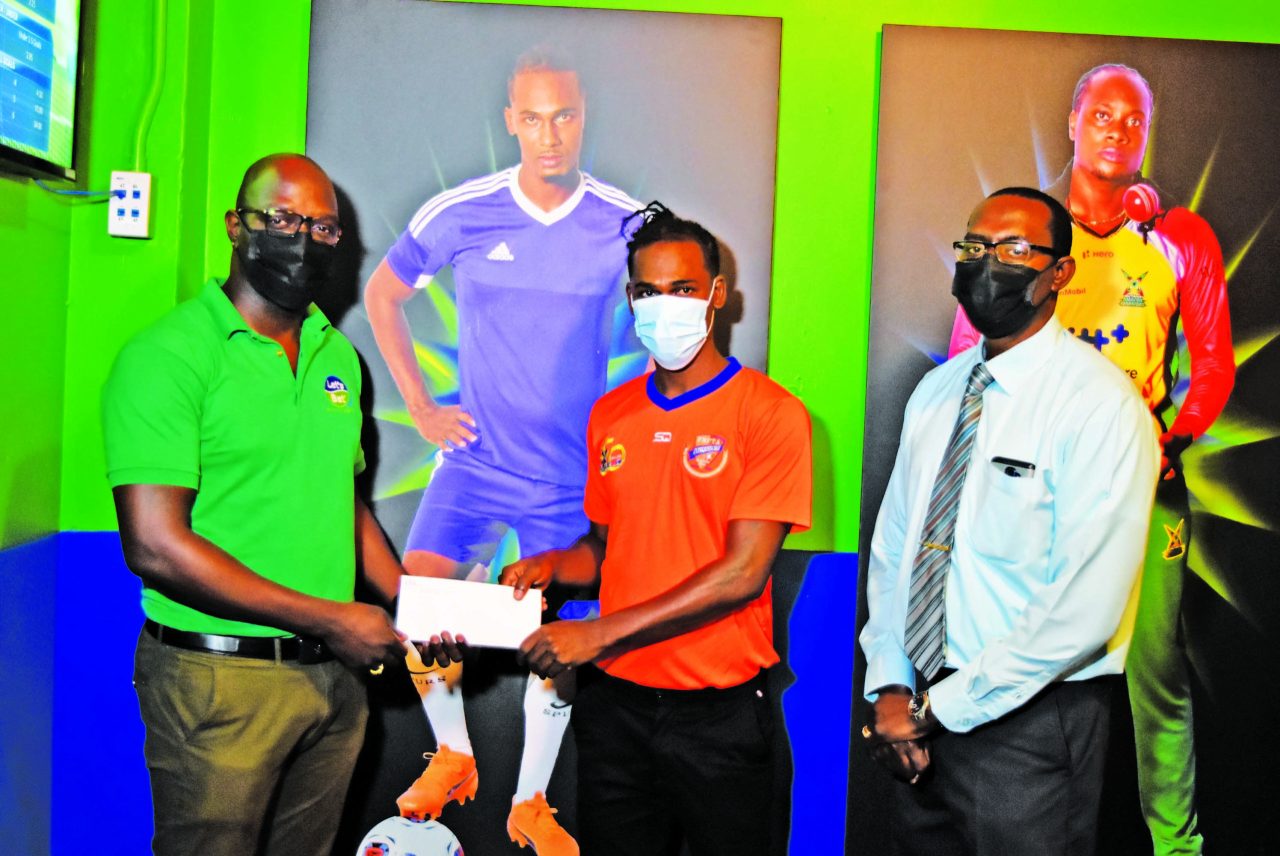 Fruta Conquerors Football Club has received a timely donation from the Guyana Lottery Company amidst their preparation for the CONCACAF Caribbean Club Shield. This tournament, slated for April 23 to May 7, will be the second consecutive time that the Tucville-based team has made the cut, following their participation in 2019.
GLC's Let's Bets Brand Ambassador Rawle Toney shared the reason for the Company's support, citing the impressive track record of the team on and off the field.
"This is a momentous occasion for the club, and more so (for) football in Guyana. It gives some sort of semblance to normalcy where sport is concerned, and (is) a bold step taken by the club to participate in this tournament, especially with no sport happening over the last year," sports journalist Toney has explained.
Toney added, "So the Guyana Lottery Company is pleased to be associated in supporting the Fruta Conquerors Football Club, because we know that our support goes a very far way, and the club is also known for producing young men who are well respected people of society."
The Caribbean Club Shield event will be hosted in Curacao, and the Guyanese team has been drawn in Group C, with Hope International FC of St Vincent and the Grenadines and SV Racing Club from Aruba.
Fruta Conquerors' Daniel Thomas, in sharing that the team is hoping to get support from Sport Minister Charles Ramson Jr, promised that the team is committed to bettering its performance this time around.
"We'd really like to express gratitude to the management, especially Ms. Tracy Lewis of the Guyana Lottery Company, for coming on board to support Fruta Conquerors Football Club. The first step is always critical to any success that you may choose to endeavour on. It gets the word out to the media, it gets the word out to corporate Guyana that, hear, these guys are real, this tournament is on, and you need to come on board and support."
Former Golden Jaguars forward and now Fruta Conquerors player Gregory 'Jackie Chan' Ricardson thanked the company and urged other to get on board.
Jackie Chan shared, "There's a lot more to come, as long as companies come on board with the club, because we need some help to help ourselves too. I want to thank the Guyana Lottery Company for supporting us."
Fruta Conquerors will play their two group games on April 23 and April 27, after which the successful teams from each group will advance. The Fruta Conquerors began training at their Tucville base some two weeks ago.