The World Wildlife Fund (WWF) Guyana Office, in collaboration with the Office of Climate Change of the Ministry of the Presidency, the Caribbean Youth Environment Network (CYEN) and several other organisations, observed Earth Hour 2017 with a special Lights Out Concert at the National Park on Saturday evening.
Now in its tenth year, Earth Hour is referred to as the largest environmental event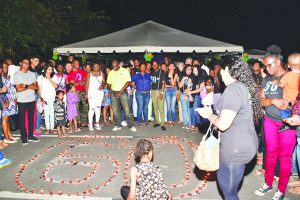 in the world, and is used to signal the commitment made by countries, individuals and organisations to create a brighter and more conscious future for the Earth, and to promote efforts to mitigate the effects of climate change.
The event saw the symbolic switching off of non-essential lights from 8:30pm to 9:30pm, and lighting of the '60+' emblem to signify Earth Hour. It also featured dances, songs, poems and other artistic pieces from artistes, including musician Jeremy Sobers, the National School of Dance, the University of Guyana and the Buxton Pride Steel Orchestra. The occasion was attended by Head of the Office of Climate Change, Janelle Christian; British High Commissioner to Guyana, Greg Quinn; Mexican Ambassador to Guyana, Ivan Robero Sierra Medel; Resident Coordinator of the United Nations, Mikiko Tanaka; and, Deputy of the United Nations Children's Fund (UNICEF) Paolo Marchi.