Under-17 players are invited to the Demerara Cricket Club (DCC) ground on Wednesday, March 29, to undergo training for qualification for the Georgetown U-17 team.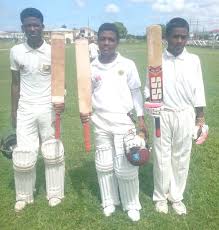 The Demerara Inter-Association Cricket tournament is expected to commence soon, thus the various associations are in the process of preparing their teams.
The training session, to be conducted under the watchful eyes of Coach Garvin Nedd, is set for 16:00h on the said day.
26 names have been shortlisted, but any interested U-17 player could participate.
The listed names are: Ashmead Nedd, Sachin Singh, Alphius Bookie, Adrian Hinds, Yeudistir Persaud, Cevon Allen, Qumar Torrington, Joel Spencer, Jospice Jones, Dequan Bamfield, Dwayne Dick, Nkosie Beaton, Garrick Persaud, Osapha Greene, Ghansham Premsham, Tyrese Payne, Jeremiah Benjamin, Fadil Hick, Bently Singh, Anthony Hetsberger, Wayne Bollers, Ariel Tilku, Daniel Paul, El Nathan Suknandan, Novindra Persaud and Afile Henry.