GHB U18/2nd Division League…
Another week of action in the Guyana Hockey Board's Under-18 and Second Division Outdoor Hockey league was staged at the St. Stanislaus College Ground on Carifesta Avenue, and saw club GCC enjoying the spoils of a good day on Saturday, while Hikers suffered a horrid run.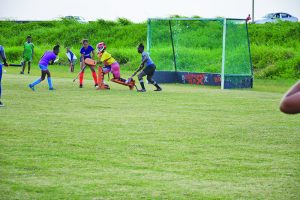 Four matches were played in the Under-18 category, with St. Joseph High School taking on Saints in the male and female divisions. Both matches ended with the two teams deadlocked on one goal apiece.
In the other two matches, GCC Girls tore into a Hikers side that capitulated without much resistance. In the first half of play, GCC had only managed to score once, thanks to the efforts of Alana Cheung; but the second half saw GCC playing with a vehemence that caused the side to net five more goals, to close out the match at 6-0. Cheung scored once more in the second half, alongside Abosaide Cadogan, Haley Carpenter, Sarah Klautky and Mickelly Rahaman.
The GCC Under-18 Boys were also on the money, clobbering Hikers 9-2. Led again by Kareem McKenzie, whose heroics secured them six goals, GCC were always in control of the match, and had signalled their intentions to a hapless Hikers' side by registering a 4-1 lead by the close of the first half.
Raheem Oliver, Jason Canterbury and Jason Gomes were the other scorers for the GCC boys.
Over in the second Division league, GCC 'A' recorded a 5-0 win over Old Fort, having assumed a 3-0 lead by the first half of play. Shaquel Leung opened up the scoring with a goal in the 9th minute, and Lennox Carrol added to the GCC A's tally four minutes later while Kareem McKenzie close off the first half with another goal for the team. In the second half, Leung and McKenzie each score once more.
GCC 'B' team had a similar scoreline when they came up against Hikers. President of the Guyana Hockey Board, Philip Fernandes, was the first GCC 'B' player to find the back of the net, doing so with just three minutes of play gone in the game. Trevor Smith would join Fernandes on the score board to close the first 20 minutes of play with GCC leading 2-0. Another Fernandes, Alan, would then mark his name alongside his brother's on the score board in the 25th minute, as Melroy Scotland and Devin Hooper also scored to close the match 5-0 and cap off a good outing for the GCC club.