G-77+China Summit
Vice President Bharrat Jagdeo has declared that Guyana remained committed to playing its role in the fight against climate change despite the fact the country is now producing oil.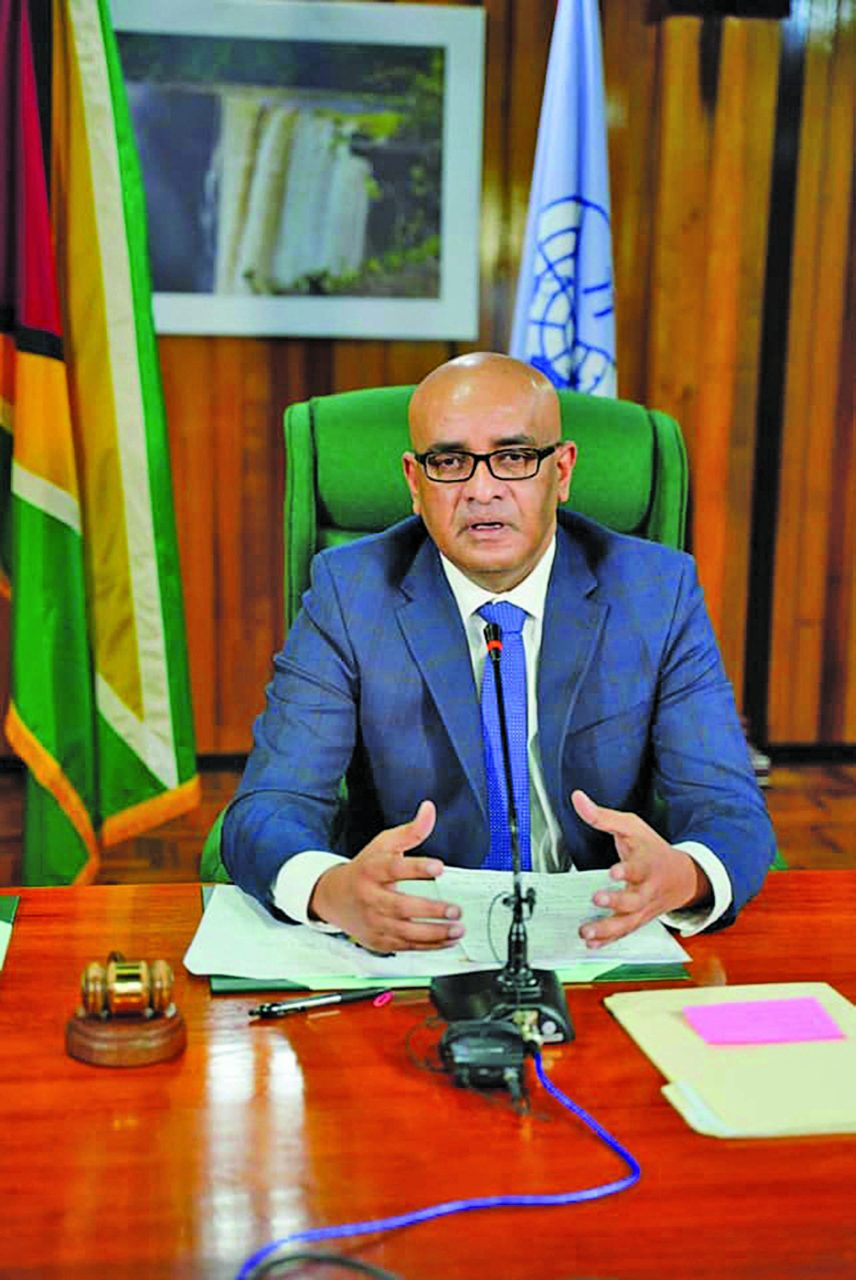 After first discovering oil in commercial quantities offshore in May 2015, Guyana began production last December and has produced some 12.3 million barrels of oil during the first half of 2020, according to the Bank of Guyana's half-year report.
However, even as an oil producer, Jagdeo told the G-77 and China ministerial and technical meeting, hosted virtually by Guyana on Thursday, that Guyana has a national-scale model approach to combating climate change that focuses on decarbonising the entire economy and adapting to climate change.
"But we have recently become oil producers – by 2025, we will be producing half a million barrels per day. Does this change our position now on climate change? Carbon pricing? Or say, the removal of subsidies from fuel? No! The answer is no, although we would be an exporter of oil. There are countries in this group that are major exporters of oil, etc, so we have to find a livable outcome," the Vice President posited.
According to Jagdeo, the world has been witnessing and experiencing the first-hand impact of climate change, which he described as an "existential threat", through hurricanes, rising sea levels, droughts and a whole host of other activities. These, he noted, have been exacerbated by the COVID-19 pandemic.
"The Paris pledges, as welcomed as they were, were never enough to achieve the outcome that we desire which is a two-degree rise, or below, of global temperature above pre-industrial level. We also know that even before COVID, many countries were not on track to achieve those pledges, although they were inadequate to achieve the two-degree target," he posited.
The Vice President further stated that there was extreme fear and worry that the widespread impact of the COVID-19 pandemic would be used as an excuse to weaken the ambition and financing of efforts to combat climate change – as had happened in the past with the global financial crisis when many countries made excuses not to raise ambitions or provide financing that they had previously pledged.
It is against this backdrop, Jagdeo said that this G-77 + China meeting was organised by Guyana, which currently holds the chairmanship. He noted that members from across the world were brought together to generate a document that reflects the experiences and challenges of some countries with inputs from other members in order to move the system along towards achieving a two-degree global temperature rise.
Jagdeo went on to say that this would require enhanced ambition and more financing for developing countries.
"A lot of countries have great plans for decarbonising economies, but they are languishing because of lack of funding. So, we have to help unlock these funds," he stated.
According to the Vice President, there are pools of resources in climate institutions such as the World Bank, and in Guyana's case, the Guyana REDD+ Investment Fund (GRIF), that are just sitting there for too long.
"There has to be a speeding up of these resources to be intermediated to the countries, particularly to the countries with limited capabilities. You've heard the problems of COVID and the huge debt burden and the need for greater liquidity, and the lack of fiscal space in many of these countries where they have to divert valuable funds to address medical issues. They badly need money now if they're going to deal with adaptation measures, etc… We need financing at scale now, not in the future," Jagdeo contended.
To this end, he pointed out that the solidarity of the Group and the larger member countries would be needed in order to unlock these funds.
With G-77 + China being the largest negotiating bloc of developing countries in the United Nations, the Vice President underscored during his presentation the need for some level of solidarity in the Group in order to achieve higher levels of ambition and adequate financing.
"So, one of the primary purposes of this exercise is to say notwithstanding the COVID-19 impact on our economies… we're faced with an existential threat here that will not go away. If anything, it is getting worse… We cannot lose sight of this," he asserted.
Jagdeo further highlighted that the G-77 plus China has the power to effect higher ambition and dedicate adequate financing towards this achievement.
"We can only do that through solidarity. This group is made up of a disparate set of countries – from small island states to developing to some very large countries. And each of us may have our own priorities and often in climate change negotiations, sometimes we contradict each other. If we can find an outcome that accommodates the concerns of all these countries then we can go to the COP (the UN Climate Change Conference) with a great sense of solidarity for the centrality of what we're here for – ambition and financing," the Vice President stressed.