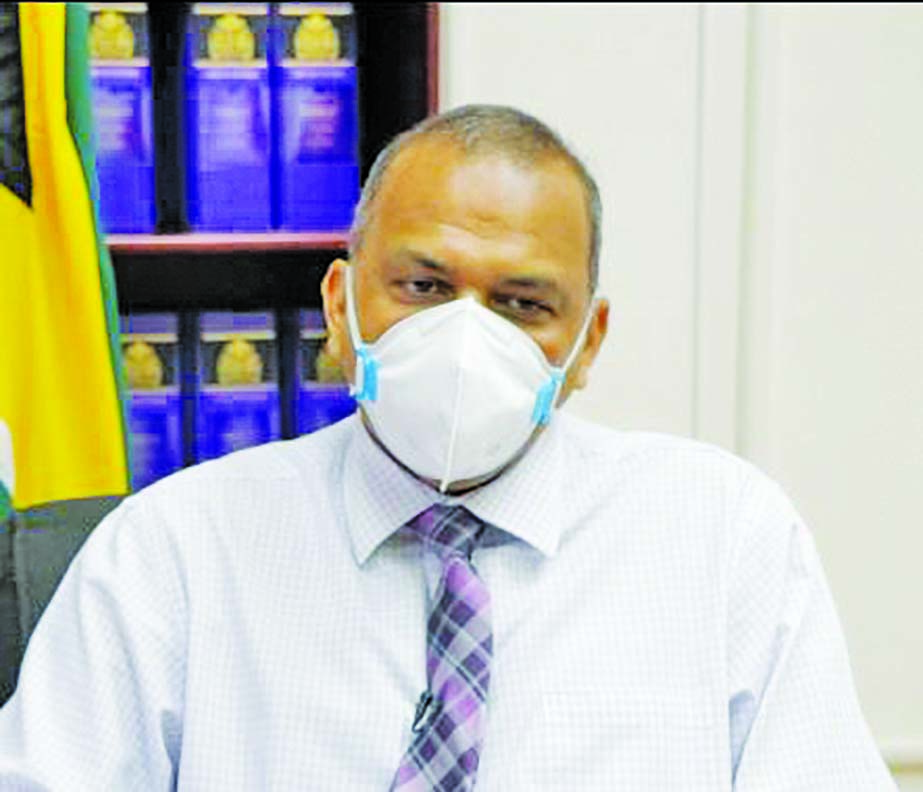 Two more persons who tested positive for the novel coronavirus (COVID-19) have died, according to the Health Ministry on Sunday.
This now takes the total number of deaths from the pandemic to 172.
These latest fatalities are two males, a 78-year-old from Region Six (East Berbice-Corentyne) and a 60–year- old from Region Four (Demerara-Mahaica). They died while receiving care at medical facilities.
These are the country's seventh and eighth COVID deaths, respectively, thus far this year. The last COVID-19 death was on January 10, when a 65-year-old male from Region Four died, also while being treated at a medical facility.
New cases
Meanwhile, the Health Ministry also reported on Sunday that 76 new novel coronavirus cases were recorded in the last 24 hours from some 451 tests conducted.
According to the Ministry's updated COVID-19 dashboard, the total number of confirmed cases in the country is now 7298 – 3748 males and 3550 females.
But only 756 of these are currently active cases. This includes seven patients in the COVID-19 Intensive Care Unit (ICU) and the remaining 749 persons in isolation, that is, 36 persons in institutional isolation and the other 713 in home isolation.
There are also 13 persons in institutional quarantine.
To date, some 6370 persons have recovered from the life-threatening virus here, that is, nine more recoveries than what was recorded the previous day.
Meanwhile, Guyana has tested some 46,798 persons for the novel coronavirus thus far.
Of the 76 new cases recorded on Sunday, one was detected in Region One (Barima-Waini), another one in Region Two (Pomeroon-Supenaam), three in Region Three (Essequibo Islands-West Demerara), 22 cases in the Demerara-Mahaica region, six in Region Five (Mahaica-Berbice), a whopping 23 cases in the East Berbice-Corentyne region and 20 more cases in Region Seven (Cuyuni-Mazaruni).
The figures in the other three regions – Region Eight (Potaro-Siparuni), Region Nine (Upper Takutu-Upper Essequibo) and Region 10 (Upper Demerara-Berbice) – remained the same.
According to the World Health Organisation (WHO), as of Sunday, some 97,464,094 confirmed cases were reported globally along with 2,112,689 deaths.
WHO also reported on Sunday that in the Region of the Americas, that is, Latin America and the Caribbean, the number of confirmed COVID-19 cases has increased to 43,456,972 while the death toll in the region has gone up to 999,894.
More training
With the COVID-19 cases in Guyana continuing to climb, Health Minister Dr Frank Anthony said that training on infectious diseases treatment would be continuous and tailored to treat the new symptoms of the coronavirus.
"Guidelines change and as we get more knowledge and so forth about the disease, and as new medicines will become available, if we are able to acquire them here in Guyana and make them available, then we will have to change our clinical guidelines every time. So, it is important that we teach our staff about these guidelines so they are more aware and can utilise these protocols," Dr Anthony explained during a recent COVID-19 update.
According to the Department of Public Information (DPI), courses are being done in collaboration with the PAHO/WHO and could be accessed on the WHO website.
Meanwhile, Minister Anthony said courses in Nursing, Midwifery, the Medics Programme, Community Health Worker Training and Pharmacy will be enhanced through collaboration with the University of Guyana.
"Many of these programmes are designed and updated and upgraded by the Ministry, but they don't have any formal accreditation outside of the Ministry. I believe the time has come when we should collaborate more closely with the University of Guyana for some of these programmes so they can be used as entry requirements into some of the programmes offered by the University," he noted.
The Health Minister added that his team will explore how its existing programmes could be accredited by the University. He also advised Government institutions to partner with the University to ensure their curricula are on par with what is happening in medicine.
Additionally, the Ministry has started drafting its training manual on the administration of a COVID-19 vaccine, in anticipation of one or more becoming available in Guyana soon.
"Training for the COVID-19 vaccines will focus on storage chain, how to administer and use the vaccines, how you'll record on the card issued, how to keep those records so that we can go back and do checks because at least two of the current vaccines require a person to return after 21 days for the second dose," Minister Anthony explained.
To date, the Ministry has conducted several COVID-19 related training programmes for its clinical staff. Training has also been done for mental health awareness and detection and the use of ventilators.
While focus would be placed on infectious diseases, this would not exclude upgrades to other medical training offered by the Health Ministry.
All Guyanese are reminded to observe the protocols of the COVID-19 Emergency Measures (No 13), which are in effect until January 31, 2021. This order emphasises, among other things, the need for correct and consistent use of a face mask when leaving home; the importance of maintaining the six feet physical distance from others; and the need for good hand hygiene to help reduce the spread of COVID-19.
If anyone is displaying any of the symptoms associated with COVID-19, or need any additional information, kindly contact the COVID-19 Hotline 231-1166, 226-7480 or 624-6674 immediately or visit www.health.gov.gy. (G8)