– rejects any extra-judicial settlement, urges Venezuela to abide by ICJ
The presentation Venezuela made at the United Nations General Assembly (UNGA) on its border controversy with Guyana, has been rubbished by Guyana's Permanent Representative to the UN, Carolyn Rodrigues-Birkett, for containing excessive falsehoods "even by their accustomed standards."
Using her right of reply as Guyana's UN representative, Rodrigues-Birkett urged that the intelligence of the international community not be insulted by Venezuelan falsehoods, including its accusation that Guyana's territory will be used as a platform for military action against Venezuela.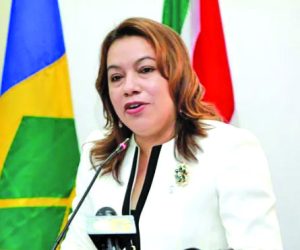 This falsehood, uttered by Venezuela's Foreign Affairs Minister, Yván Gil, when he made his presentation to the UNGA General Debate last week, was also parroted by Venezuelan President Nicolas Maduro in a social media post he made a few days ago.
"The intelligence of the international community should not be insulted by Venezuela's allegations that Guyana is allowing its territory to be used as a platform for military aggression against any State including the Bolivarian Republic of Venezuela," Rodrigues said in her reply.
"This all derives from Venezuela's grotesque claim to two-thirds of Guyana. Throughout, the Government of the Cooperative Republic of Guyana has acted, and continues to act in relation to neighbouring Venezuela, in full accordance with international law and has consistently invited the Government of Venezuela to do the same."
The diplomat urged Venezuela to adhere to Article IV of the 1966 Geneva Agreement, which allowed Guyana to have the matter brought before the ICJ after the collapse of the good offices mechanism. She made it clear that Guyana would not agree to any other resolution of the border controversy, other than one that sees the International Court of Justice (ICJ) issuing a final, binding ruling on the case.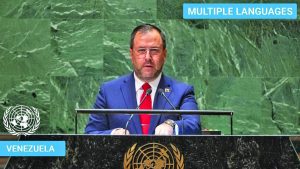 "Accordingly, if Venezuela truly believes that the best, or the only, way to resolve the controversy is by adherence to the 1966 Geneva Agreement, then it should adhere to that Agreement, plead its case to the ICJ, and accept the decision of the Court, when it is issued, as a final and binding settlement of the controversy."
"Guyana will not agree to any procedure that contradicts the express provisions of the Geneva Agreement and bypasses the Court, which is the only means of settlement that is now authorised by Article IV of that Agreement," the diplomat said, also urging Venezuela to confirm that it will adhere to the judicial process of the ICJ.
Venezuelan claims
Last week, Venezuela issued a communique that threatened Guyana and protested against Guyana's efforts to auction its oil blocks, even though all the blocks are in Guyana's sovereign territory.
President Dr Irfaan Ali had issued a stern response in a video broadcast over the weekend, also announcing that he has since updated not only the Speaker of the House, Manzoor Nadir but also Opposition Leader Aubrey Norton, on the Guyana v Venezuela controversy, as well as the support Guyana has gotten from the international community.
In a social media post, Venezuelan President Maduro responded to President Ali and accused Guyana of jeopardising peace in the Region, despite the Spanish-speaking country initiating the controversy. It was here that he made the unfounded claim of Guyana allowing itself to be used as a platform for military aggression.
Maduro had also proposed to President Ali that the two sides meet with the Caribbean Community (Caricom) as a mediator, to return to the Geneva Agreement of 1966 that affirmed the 1899 Arbitral Award.
Guyana has received consistent support from the international community. Support has come from the United States (US), Caricom, the Organisation of American States (OAS), and the Commonwealth.
Guyana's case against Venezuela is currently before the International Court of Justice (ICJ). However, the Spanish-speaking country has been seeking to block Guyana from having its substantive application before the ICJ heard, on spurious grounds that include its claims that the United Kingdom should have been made a party to the case, instead of Guyana. Venezuela has also claimed that the 1899 Arbitral Award is void due to what it claims was fraud committed by the UK at the time.
Guyana's legal team is headed by Co-Agent and Counsel, Sir Shridath Ramphal, and includes a member of the Bars of the United States Supreme Court and the District of Columbia, Paul S Reichler; and Professor Emeritus of the University Paris Nanterre, former Chairman of the International Law Commission and member of the Institute de Droit International, Alain Pellet.
United Nations Secretary General António Guterres, in January 2018, decided that the case should be settled by the ICJ, after exercising the powers vested in him to decide how the controversy should be settled by the 1966 Geneva Agreement between Guyana, Venezuela, and the United Kingdom.
He resorted to judicial settlement after the good office process between Guyana and Venezuela failed. Within the framework of the 1966 Geneva Agreement between the two countries, the Secretary General conducted good offices from 1990 to 2017 to find a solution to the border controversy.
Among other things, Guyana is asking the ICJ to adjudge and declare that the 1899 Award is valid and binding upon Guyana and Venezuela, that Venezuela is internationally responsible for violations of Guyana's sovereignty and sovereign rights, and for all injuries suffered by Guyana as a consequence. (G-3)