The local contingent of Avinash Persaud, Rakesh Harry and Lakram Ramsundar made tremendous strides on Day 2 of the annual international Republic Bank Invitational golf tournament held at Golf Club Paramaribo, Indira Gandhiweg, Paramaribo, Suriname.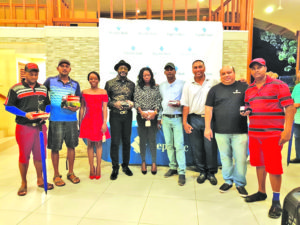 Newcomer Rakesh Harry, playing in the B Flight, emerged as the undisputed B Flight champion at the end of Day 2, and in the process, producing the Best Net Score in the tournament and thus winning the Male Tournament Champion honours for Guyana.
Current 9-time Guyana Open Champion Avinash Persaud showed his class as he romped home in the final day to win Best Gross overall honours, narrowly missing the A Flight Net Title when he went out-of-bounds on the last hole.
'Panko' Ramsundar shocked his rivals by storming back from a dismal first day to emerge Best Gross Champion in the B Flight and third Best Net in the B Flight.
In the A Flight, Avinash Persaud, advanced from 8th place in Day 1 to 2nd place overall at the end of Day 2. A similar feat was performed by Panko Ramsundar in the B Flight, where he moved from 9th place in Day 1 to 3rd place overall at the end of Day 2.
Avinash Persaud won the Tournament Overall Best Gross, and Shanella London won the Longest Drive in the Ladies category for both Days 1 and 2, while Avinda Kishore won the Longest Drive in the Male category on Day 2
The Surinam Invitational, played under the Stableford Format, is essentially a Net performance tournament so Guyana came home with great positions in the categories. Other golfers from Guyana did well as in the B Flight Dr London and George Bulkan also brought home prizes for their 4th and 6th places respectively.
Troy Cadogan and Shanella London placed 3rd in their Flights with great performances, Eureka Giddings 8th place performance in her first appearance in an international tournament was commendable. Defending 2018 Ladies Champion Dr. Joaan Deo fell short of her bid to repeat and vowed to focus her efforts on the Guyana Open scheduled for October 26-27.