Centrobasket U-17 Championships
Despite Kevon Wiggins and Akeem Crandon's 15 and 10 points respectively, Guyana were handed their second consecutive loss of the Centrobasket U-17 Championships when they were heavily defeated by Puerto Rico in the second Group A game they played.
Puerto Rico were dominant in their 115-48 points' victory as they outplayed the Guyanese opposition comprehensively.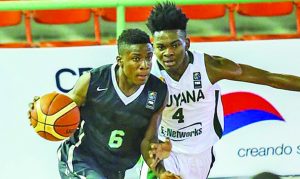 The Puerto Ricans had a 67% 2-point Full Game compared to Guyana's 37%. Guyana's players were careless with the ball, as Puerto Rico managed 25 steals while conceding the ball only 8 times.
As was the case in game one, Guyana had a massive amount of turnovers, 41 in total, compared to Puerto Rico's 8.
In the first quarter, Puerto Rico almost doubled Guyana's points as they ended that period of play leading 22-12.
Guyana briefly resisted, and fought back valiantly in the second quarter, however that would be their most productive quarter as Puerto Rico stifled their offence in the third quarter and easily outplayed a tired looking defence.
The main man for Puerto Rico was Gianfranco Gafral, with 23 points and 6 rebounds. He received solid support from Omar Morales with 19 points and 5 rebounds.
Wiggins was once again the top scorer for Guyana, with 15 points and 2 rebounds; while Akeem Crandon had 10 points and snatched 11 rebounds.
This defeat surely means that Guyana won't progress from the Group stage of the tournament, as the other countries in Group A have each recorded a win, with Puerto Rico having now chalked up two victories to be top of the group.
Guyana will next face Mexico today in their final match.