Guyana's five-month-long electoral crisis has made investors from the United Kingdom more cautious about doing business here, according to British High Commissioner to Guyana Greg Quinn.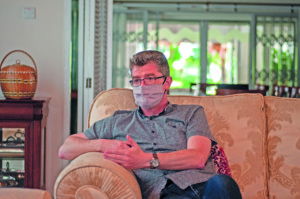 "It has made them more cautious and they were certainly very cautious in the period of that five months as well. So, in reality, I think we have lost a period of time in which we could have been driving forward some of that economic progression," the UK diplomat said during an interview with Guyana Times on Wednesday.
Since the discovery of oil offshore Guyana in 2015, the business-to-business link between the two countries has expanded tremendously, not just with interests in the oil and gas sector.
Now that the electoral impasse has been resolved, Ambassador Quinn said it is time to start recapitalising on the investment opportunities that are available to develop the local economy.
In fact, since the installation of the new Government, the British diplomat has met with top officials including President Dr Irfaan Ali and Foreign Affairs Minister Hugh Todd to discuss areas of cooperation.
"Now that we've got past this post-election period, we now want to get to a place where all of those businesses that are interested in forming partnerships here and building local capacity…we are now going to get them back in so they can start developing the wider economy," he outlined.
Former Jamaican Prime Minister Bruce Golding, who was also the Head of the Organisation of American States (OAS) Electoral Observer Mission for Guyana's Election, had contended that the damage done to the country's image on the world stage will take generations to fix.
Golding had informed an OAS Permanent Council Meeting on Guyana's electoral crisis that "the pernicious actions of a few have brought considerable damage to Guyana's image and reputation. Even if this debacle is soon and satisfactorily resolved, it will perhaps take a generation and significant institutional reform for that damage to be repaired."
But Ambassador Quinn explained that "British businesses are resilient" and with a legitimate Government in place and stability in the economy, they will continue to be interested in Guyana.
And according to the UK envoy, there is no question about the legitimacy of the current Government and therefore, as far as the foreign businesses are concerned, there is a safe business environment in Guyana.
Adding to the view of a welcoming business climate is Guyana's improved standing on the Corruption Perception Index and the Ease of Doing Business Index, Ambassador Quinn noted, highlighting that the past Administration deserves credit for this advancement.
He was quick to point out, however, that the system is not perfect. Nevertheless, he said the improved standing is a step in the right direction in making the country more attractive to foreign investors since those perception guides give foreign businesses an insight into what it would be like investing in another country.
Another issue which needs to be addressed when it comes to attracting investors is that of clarity on what is required, the UK Ambassador explained.
With the Local Content Policy, for example, he explained that such a strategy needs to be clear on the expectations and it needs to be realistic in terms of timescale.
The UK diplomat reminded that in the case of the burgeoning oil and gas industry, there is hardly any skilled labour locally, and therefore, the country must depend on outside expertise to develop.
He reasoned that if a company comes to Guyana, there can be an arrangement in place whereby they are required to partner with a local firm and train a certain number of locals in a certain amount of time.
"And I think a lot of British companies would welcome the clarity of what is required," Ambassador Quinn said.
Therefore, with such an arrangement in place, Guyana can benefit from foreign training, which will eventually advance its local labour force. In fact, the British Ambassador pointed out that foreign companies, including from the United Kingdom, actually prefer to employ locals because it is simply just easier.
Apart from oil and gas, the UK diplomat highlighted that British companies can partner with Guyanese firms or even the Government in the area of infrastructure with regards to building or designing roads and any other structure like the new Demerara Harbour Bridge.
He also mentioned opportunities for partnership in the renewables industry, highlighting that there is a lot of expertise in this field in Aberdeen, Scotland.
Guyana and Aberdeen have already committed to working together. In fact, in March 2019, Lord Provost of Aberdeen Barney Crockett visited Guyana where the foundation was set and the two sides signed a Memorandum of Understanding to cement their commitment of partnership in areas of oil and gas, energy, skills development, healthcare, solid waste management, and green open spaces.
Moreover, Ambassador Quinn highlighted that as the oil wealth trickles down – and he urged that measures are put in place to ensure this happens – Guyanese will have more spending power, and therefore greater investment opportunities will become available in the provision of goods and services. (Devina Samaroo)